The Annual Varsity Swimming Match against Cambridge University has been the main focus of OUSC's competition calendar for 128 years and is the oldest swimming event in the world, preceding the modern Olympic Games by 4 years! Its only suspensions have been during the First and Second World Wars.
The very first matches were hosted at the Kensington Pools in London, and were open to men only. Each competition consisted of three individual freestyle events, with two swimmers from Oxford and two from Cambridge competing in each event. The exact distances of the races were not verified, and often varied year on year; sprints were usually around 100m and a quarter mile, whilst middle distance events varied between 100 years to 174-240 during the 1890s. A competitor gained 5 points for their university for a 1st place finish, 3 for 2nd and 1 for 3rd place. The overall winner was the university which won the most individual events.
In 1897, a team event was added and each university put forward seven swimmers to compete. The team event had no effect on the outcome of the Varsity Match, however, as the victorious university was still that who won the most individual events. This programme remained until the 1920s, when a points system was introduced in 1926. However, this was not standardised and as new events entered the programme, the total points changed year on year.
1921 also saw the introduction of the Women's Varsity Match, although the event was held separately from the men's. The format of this event was strikingly differed to that of the men's, as the event distances were halved and the relay consisted of only five swimmers. The programme also contained a plunge, style swimming and diving.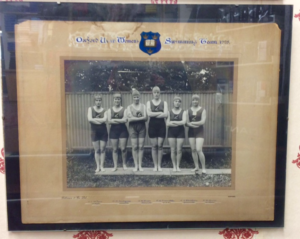 Some of the earliest women to represent Oxford University in the Annual Varsity Swimming Match. The photograph is of the 1928 women's team.
By the 1930s, the men's competition had gained events and the programme consisted of:
100 yards freestyle

220 yards freestyle

440 yards freestyle

200 yards breaststroke

100-150 yards backstroke

Medley relay of backstroke, breaststroke and freestyle

Freestyle relay consisting of four swimmers
This was later extended to include butterfly and individual medley events, as well as a full medley relay during the 1950s. The Varsity Match included a butterfly event in 1953 – two years before it even became an official competitive stroke! The scoring system also changed to the one recognised today.
Official results from 1926-2020
So Far Cambridge have won a known 50 Varsity matches and Oxford have won 32.
| | | | |
| --- | --- | --- | --- |
| Year | Cambridge points | Oxford points | Winner |
| 2020 | 83 | 97 | Oxford |
| 2019 | 87 | 93 | Oxford |
| 2018 | 90 | 90 | Draw |
| 2017 | 79 | 101 | Oxford |
| 2016 | 91 | 89 | Cambridge |
| 2015 | 67 | 110 | Oxford |
| 2014 | 72 | 108 | Oxford |
| 2013 | 63 | 117 | Oxford |
| 2012 | 71 | 108 | Oxford |
| 2011 | 93 | 86 | Cambridge |
| 2010 | 83 | 97 | Oxford |
| 2009 | 89 | 90 | Oxford |
| 2008 | 67 | 110 | Oxford |
| 2007 | 92 | 78 | Cambridge |
| 2006 | 104 | 66 | Cambridge |
| 2005 | 110 | 57 | Cambridge |
| 2004 | 104 | 66 | Cambridge |
| 2003 | 99 | 70 | Cambridge |
| 2002 | 104 | 66 | Cambridge |
| 2001 | 103 | 67 | Cambridge |
| 2000 | 89 | 80 | Cambridge |
| 1968-1999 | Know these results? | Please contact us! | |
| 1967 | 52 | 34 | Cambridge |
| 1966 | 47 | 39 | Cambridge |
| 1965 | 47 | 39 | Cambridge |
| 1964 | 41 | 45 | Oxford |
| 1963 | 41 | 45 | Oxford |
| 1962 | 45 | 40 | Cambridge |
| 1961 | 40 | 46 | Oxford |
| 1960 | 44 | 42 | Cambridge |
| 1959 | 47 | 39 | Cambridge |
| 1958 | 33.5 | 52.5 | Oxford |
| 1957 | 42.5 | 43.5 | Oxford |
| 1956 | 51 | 35 | Cambridge |
| 1955 | 46 | 40 | Cambridge |
| 1954 | 45 | 31 | Cambridge |
| 1953 | 49 | 27 | Cambridge |
| 1952 | 30 | 36 | Oxford |
| 1951 | 38.5 | 27.5 | Cambridge |
| 1950 | ? | ? | ? |
| 1949 | 11 | 42 | Oxford |
| 1948 | 17 | 36 | Oxford |
| 1947 | 34 | 19 | Cambridge |
| 1946 | 25 | 28 | Oxford |
| 1945 | – | – | No match |
| 1944 | – | – | No match |
| 1943 | – | – | No match |
| 1942 | – | – | No match |
| 1941 | – | – | No match |
| 1940 | – | – | No match |
| 1939 | 25 | 28 | Oxford |
| 1938 | 30 | 23 | Cambridge |
| 1937 | 36 | 17 | Cambridge |
| 1936 | 22 | 31 | Oxford |
| 1935 | 23 | 30 | Oxford |
| 1934 | 22 | 30 | Oxford |
| 1933 | 35 | 18 | Cambridge |
| 1932 | 23 | 8 | Cambridge |
| 1931 | 13 | 18 | Oxford |
| 1930 | 19 | 16 | Cambridge |
| 1929 | 25 | 10 | Cambridge |
| 1928 | 23 | 7 | Cambridge |
| 1927 | 11 | 19 | Oxford |
| 1926 | 12 | 18 | Oxford |
Official results from 1892-1926
| | | | | |
| --- | --- | --- | --- | --- |
| Year | Cambridge events | Oxford events | Events drawn | Winner |
| 1925 | 2 | 0 | 1 | Cambridge |
| 1924 | 1 | 0 | 2 | Cambridge |
| 1923 | 3 | 0 | 0 | Cambridge |
| 1922 | ? | ? | ? | ? |
| 1921 | 2.5 | 0.5 | 0 | Cambridge |
| 1920 | 1 | 2 | 0 | Oxford |
| 1919 | 1 | 2 | 0 | Oxford |
| 1918 | – | – | – | No match |
| 1917 | – | – | – | No match |
| 1916 | – | – | – | No match |
| 1915 | – | – | – | No match |
| 1914 | 3 | 0 | 0 | Cambridge |
| 1913 | 2 | 1 | 0 | Cambridge |
| 1912 | 2.5 | 0.5 | 0 | Cambridge |
| 1911 | 3 | 0 | 0 | Cambridge |
| 1910 | 2.5 | 0.5 | 0 | Cambridge |
| 1909 | 2 | 1 | 0 | Cambridge |
| 1908 | ? | ? | ? | ? |
| 1907 | ? | ? | ? | ? |
| 1906 | 1 | 0 | 2 | Cambridge |
| 1905 | 2 | 0 | 1 | Cambridge |
| 1904 | 1 | 0 | 2 | Cambridge |
| 1903 | 3 | 0 | 0 | Cambridge |
| 1902 | 3 | 0 | 0 | Cambridge |
| 1901 | 2 | 0 | 1 | Cambridge |
| 1900 | 0 | 2 | 1 | Oxford |
| 1899 | 1 | 0 | 2 | Cambridge |
| 1898 | ? | ? | ? | ? |
| 1897 | 0 | 3 | 0 | Oxford |
| 1896 | 0 | 2 | 1 | Oxford |
| 1895 | 3 | 0 | 0 | Cambridge |
| 1894 | 3 | 0 | 0 | Cambridge |
| 1893 | 2 | 0 | 1 | Cambridge |
| 1892 | 1 | 0 | 2 | Cambridge |
Seconds Match Results 2018-2020
| | | | |
| --- | --- | --- | --- |
| Year | Cambridge | Oxford | Winner |
| 2020 | | | Oxford |
| 2019 | 93 | 87 | Cambridge |
| 2018 | 76 | 104 | Oxford |