Swimmers make a splash in Spain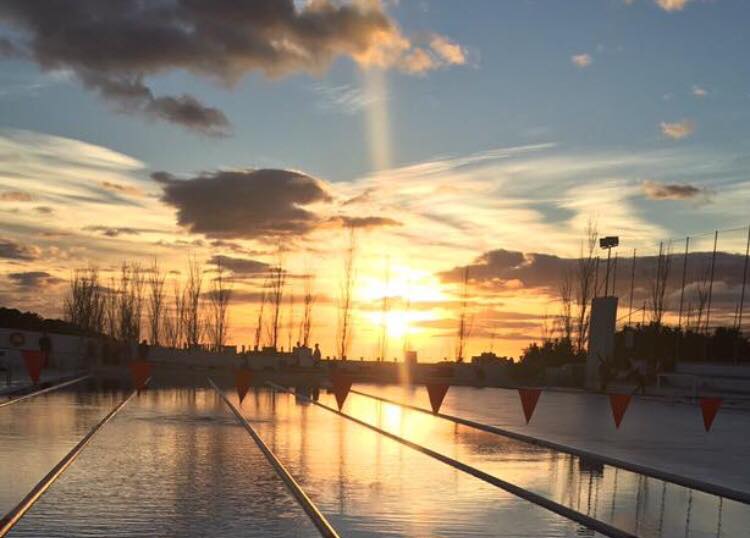 Seven intense days, eleven exhausting pool sessions and two gruelling land training workouts later, Oxford University Swimming Club just about managed to crawl through Malaga airport and onto the flight home –  complete with our costume shaped tan lines, aching bodies and wet towels, all in desperate need of a good cup of tea and decent Wi-Fi. Yet despite returning with a crippling inability to move at a functional pace, the week most certainly fulfilled its mission statement – "be ready to shoe the Tabs".
Arriving at lunchtime on Sunday 5th January, after a less-than-pleasant 3am start, the team hit the pool for their first session, but only after fuelling up on the native Spanish cuisine – Burger King.
There seems something fundamentally wrong about outdoor swimming in January, but the Piscina Virgen del Carmen III could be considered a thing of beauty – an Olympic sized pool, positioned at the base of a mountain range, and with a spectacular view of the sea. Although quite frankly, just a glimpse of blue sky was a welcomed break from the appalling British weather: rest assured that we took full advantage of the sun, despite the locals repeatedly warning us that it was "frío".
The week revolved around swimming and meal times, consisting of two pool sessions a day which each lasted two hours, although on both Tuesday and Friday a gruelling land-based session replaced the morning swim. This routine was made up of a post-breakfast session from 9-11am and a pre-dinner session from 4-6pm.
Setting the alarm for a 7:30 wake up call, which was inevitably pushed back to 7:53 by day seven (every minute counts), breakfast predictably took the form of "Europeans try and do English Breakfast". However, if you know anything about swimmers and their appetites, you will not be surprised to note that there were no complaints. In fact, numerous attempts were made to sneak out food for lunch (at least three pain aux chocolats) – although it seems pockets are not sufficient pastry-carrying devices. Actually, on reflection a list of my general food intake for the week would read something like "carbs, carbs, carbs, protein, carbs… ice cream… sangria."
Pool sessions were preceded by an half hour core workout, before jumping in (literally) to a mixture of speed sessions, drills, breath control and long distance training. Bravely, the prospective Channel swimmers among us even took to the sea for an hour in preparation for the Varsity Channel Relay in July – I'm told that was most definitely "frío". Perhaps the most challenging aspect of the training was the land sessions though.
As a fresher, I had been warned by various team members over the last term of the "dreaded steps", a seemingly innocent set of stairs that takes one down to the beach front. Naively, I thought, "how hard can that really be?"
Unfortunately, "dreaded" was underselling the fear-factor. Imagine walking up 105 (I counted) sloping, steep steps, whilst dodging tourists and doddery OAPs. Now picture running up and down, 6 times, on two occasions. After that we all consciously made the effort to take the lift at every opportunity for the rest of the week.
Interestingly, OUSC were not the only team training in Torremolinos, swimming at the Virgin del Carmen III pool and staying in the Hotel Roc Flamingo that week. Perhaps the Tabs were so threatened by our astounding, record-breaking win at Varsity 2013 that they had to come and see how it's done. You know what they say – keep your friends close, and your enemies closer.
Don't worry, we didn't do too much fraternising with the enemy but we were challenged to the annual Varsity Mini Golf competition. I am happy to report that a member of Team Oxford took the prestigious title – no doubt a reflection of the upcoming result of Varsity 2014.
All in all, the week was tough but extremely rewarding and OUSC are most definitely ready for the challenges of Hilary term. Now excuse me whilst I spend the day under the covers, catching up on episodes of Sherlock I missed before training resumes
---