Varsity 2014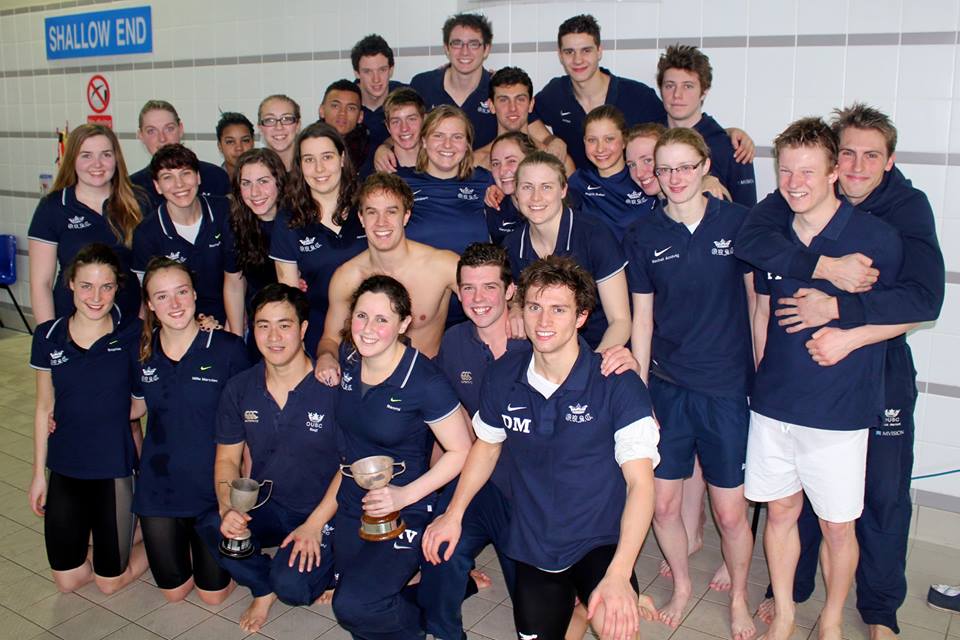 Varsity 2014 was held at the Rosenblatt Pool, Iffley Sports Centre in Oxford on 1st March 2014. Oxford were victorious in the men's, women's and overall trophies, with scores of 61 – 29, 47 -43, and 108 – 72 respectively.
Special mentions: Jack Marriott was recipient of the prestigious 'Swimmer of the Meet' award for his performance in the 100 Butterfly.
3 club records were broken; by Adenais Vachon in the 400 Freestyle; by Jack Marriott in the 100 Butterfly; and by Xander Alari-Williams in the 100 Breaststroke.
Points
| | Oxford | Cambridge |
| --- | --- | --- |
| Men | 61 | 29 |
| Women | 47 | 43 |
| Overall | 108 | 72 |
Results:
Position
Name
Team
Time
Women's 200m Individual Medley
1
Rachel Andvig
Ox
 2.29.52
2
Rachael Franklin
Ox
 2.31.76
3
Lizzy Perkins
Cam
 2.35.16
4
Sam Mullender
Cam
 2.46.43
Men's 200m Individual Medley
1
Anthony O'Driscoll
Ox
 2.06.62
2
Dale Waterhouse
Cam
 2.07.73
3
Matt Courtis
Ox
 2.08.52
4
Graeham Douglas
Cam
 2.13.51
Women's 100m Backstroke
1
Megan Connor
Cam
 1.04.95
2
Jennifer Redmond
Ox
 1.08.16
3
Katherine Pyne
Cam
 1.08.25
4
Millie Marsden
Ox
 1.10.81
Men's 100m Backstroke
1
James Jurkiewicz
Ox
 57.61
2
Joe Northover
Ox
 58.66
3
Erik Sullivan
Cam
 1.02.48
4
Darren Bell
Cam
 1.04.00
Women's 200m Freestyle
1
Adenais Vachon
Ox
 2.07.21
2
Naomi Vides
Ox
 2.09.80
3
Alexandra Wiseman
Cam
 2.09.99
4
Katie Davidson
Cam
 2.11.61
Men's 200m Freestyle
1
Cody Duncan
Ox
1:53.72
2
Andrew Wills
Ox
1:54.95
3
Andrew Corley
Cam
1:57.14
4
Dimitris Kousoulides
Cam
1:57.28
Women's 100m Butterfly
1
Holly Winfield
Ox
 1.06.51
2
Cynthia Tsay
Cam
 1.07.21
3
Martha Hirst
Cam
 1.07.62
4
Linda Geaves
Ox
 1.11.70
Men's 100m Butterfly
1
Jack Marriott
Ox
53.63
2
Kouji Urata
Ox
57.23
3
Joel Wilson
Cam
59.66
4
Dan Brackenbury
Cam
1:01.34
Women's 400m Freestyle
1
Adenais Vachon
Ox
 4.29.90
2
Martha Hirst
Cam
 4.34.32
3
Katie Davidson
Cam
 4.35.03
4
Rachael Franklin
Ox
 4.43.68
Men's 400m Freestyle
1
Matt Courtis
Ox
 4.04.96
2
Erik Sullivan
Cam
 4.05.06
3
Freddie Faulkner
Ox
 4.07.59
4
Dimitri Kousoulides
Cam
 4.11.20
Women's 100m Breaststroke
1
Rebecca Achieng Ajulu-Bushell
Ox
 1.19.35
2
Lizzy Perkins
Cam
 1.22.47
3
Marisa Schubert
Ox
 1.23.27
4
Priya Crosby
Cam
 1.24.62
Men's 100m Breaststroke
1
Xander Alari-Williams
Ox
 1.03.07
2
Joe Nathan
Ox
 1.04.32
3
Graeham Douglas
Cam
 1.08.42
4
Darren Bell
Cam
 1.12.41
Women's 100m Freestyle
1
Megan Connor
Cam
 57.59
2
Alexandra Wiseman
Cam
 58.99
3
Rachel Andvig
Ox
 59.88
4
Sophia Kinally
Ox
 1.01.50
Men's 100m Freestyle
1
Andrew Wills
Ox
51.35
2
Cody Duncan
Ox
51.47
3
Dale Waterhouse
Cam
51.48
4
Joel Wilson
Cam
53.22
Women's 4x50m Medley Relay
1
Rebecca Achieng Ajulu-Bushell
Rachel Andvig
Holly Winfield
Naomi Vides
Ox
 2.07.73
2
Katherine Pyne
Priya Crosby
Martha Hirst
Katie Davidson
Cam
 2.09.62
Men's 4x100m Medley Relay
1
James Jurkiewicz
Xander Alari-Williams
Jack Marriott
Seb Burleigh
Ox
 3.48.29
2
Darren Bell
Graeham Douglas
Dan Brackenbury
Erik Sullican
Cam
 4.06.47
Women's 4x50m Freestyle Relay
1
Alexandra Wiseman
Lizzy Perkins
Cynthia Tsay
Megan Connor
Cam
 1.47.18
2
Sophia Kinally
Adenais Vachon
Rebecca Achieng Ajulu-Bushell
Naomi Vides
Ox
 1.50.86
Men's 4x100m Freestyle Relay
1
Andrew Wills
Cody Duncan
Dom McLoughlin
Joe Northover
Ox
 3.29.19
2
Joel Wilson
Andrew Corley
Dimitris Kousoulides
Dale Waterhouse
Cam
 3.30.85
---