Varsity 2015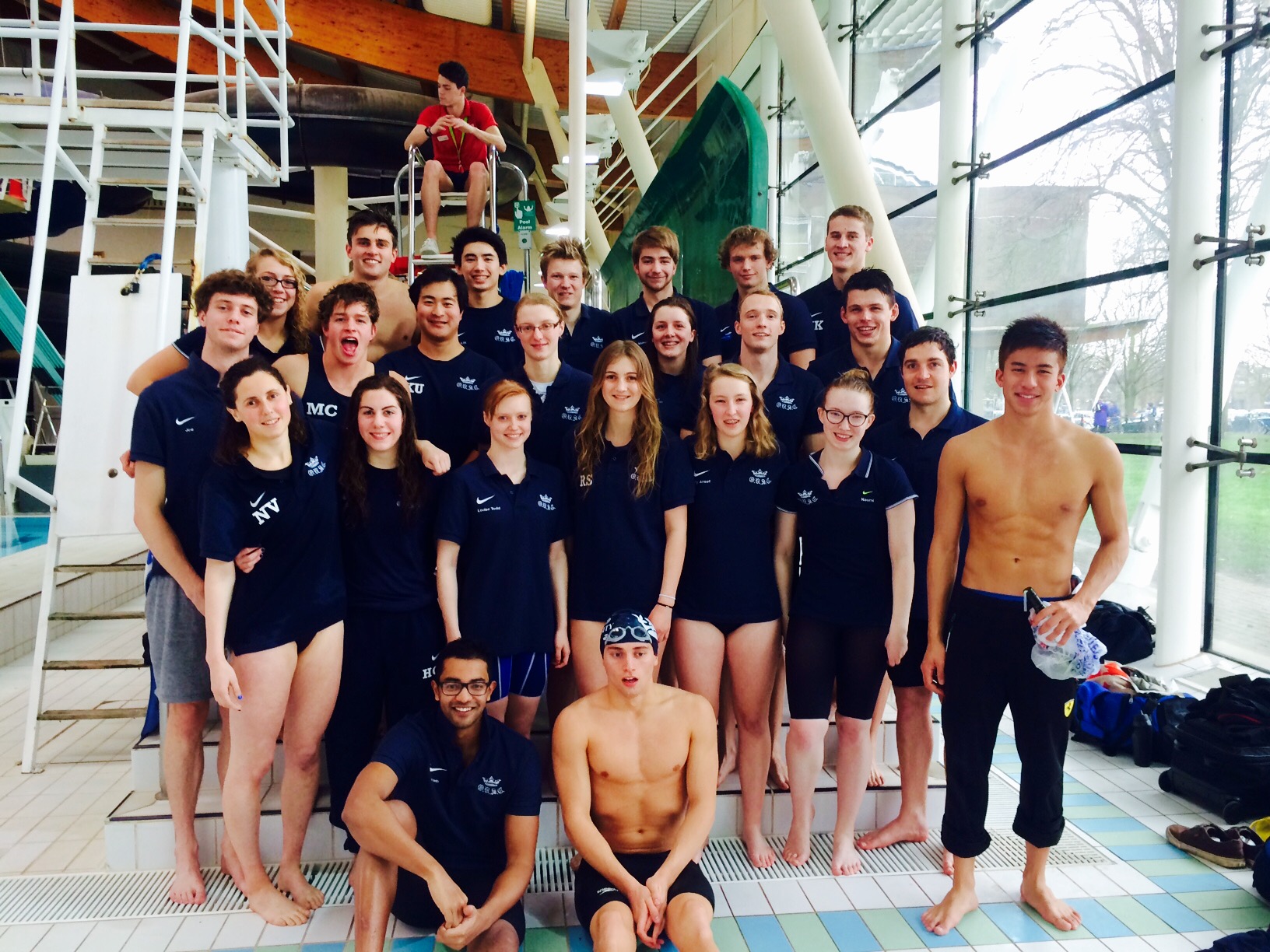 Varsity 2015 was held in Cambridge on February 2015. Oxford were once again victorious in the men's, women's and overall trophies.
Heerden Herman was recipient of the prestigious 'Swimmer of the Meet' award for his performance in the 400m Freestyle.
Xander Alari-Williams also broke both the 50m and 100m Breastroke records during the 100m Breastroke race.
Points
| | Oxford | Cambridge |
| --- | --- | --- |
| Men | 57 | 33 |
| Women | 53 | 34 |
| Overall | 110 | 67 |
Results:
Position
Name
Team
Time
Women's 200m Individual Medley
1
Naomi Vides
Ox
2:24.00
2
Rebecca Neal
Ox
2:30.12
3
Lydia Woodward
Cam
2:34.85
4
Annarie Rossouw
Cam
2:38.61
Men's 200m Individual Medley
1
Matt Courtis
Ox
2:06.15
2
George Stannard
Ox
2:10.91
3
Graeham Douglas
Cam
2:11.08
4
James Fountain
Cam
2:14.33
Women's 100m Backstroke
1
Katherine Pyne
Cam
1:05.23
2
Katherine Chapman
Cam
1:08.52
3
Millie Marsden
Ox
1:10.58
4
Louise Todd
Ox
1:14.94
Men's 100m Backstroke
1
Ashwin Menon
Ox
58.48
2
Dale Waterhouse
Cam
1:01.26
3
Dom Mcloughlin
Ox
1:01.88
4
Andrew Ng
Cam
1:02.70
Women's 200m Freestyle
1
Alexandra Wiseman
Cam
2:09.43
2
Eleanor Gardner
Ox
2:14.03
3
Rachael Franklin
Ox
2:15.23
4
Priya Crosby
Cam
2:20.69
Men's 200m Freestyle
1
James Ross
Ox
1:55.83
2
Heerden Herman
Ox
1:56.69
3
Erik Sullivan
Cam
1:57.26
4
Dimitris Kouloulidis
Cam
2:00.10
Women's 100m Butterfly
1
Holly Winfield
Ox
1:06.08
2
Katherine Pyne
Cam
1:06.96
3
Cathy Breed
Cam
1:07.46
4
Rachael Andvig
Ox
1:09.75
Men's 100m Butterfly
1
Matt Courtis
Ox
56.28
2
Calum Ferguson
Cam
56.32
3
Kouji Urata
Ox
58.39
4
Dan Brackenbury
Cam
59.75
Women's 400m Freestyle
1
Naomi Vides
Ox
4:38.68
2
Katherine Chapman
Cam
4:42.29
3
Rebecca Neal
Ox
4:47.03
4
Lydia Woodward
Cam
4:53.85
Men's 400m Freestyle
1
Heerden Herman
Ox
4:07.14
2
Freddie Faulkner
Ox
4:11.12
3
Erik Sullivan
Cam
4:11.62
4
Ian Gaffney
Cam
4:12.59
Women's 100m Breaststroke
1
Tamsin Mckinnon
Ox
1:17.67
2
Rachel Franklin
Ox
1:18.03
3
Annarie Rossouw
Cam
1:20.04
4
Priya Crosby
Cam
1:25.40
Men's 100m Breaststroke
1
Xander Alari-Williams
Ox
1:02.60
2
Dominic Holloway
Cam
1:03.73
3
Graeham Douglas
Cam
1:07.31
4
Eric Zhang
Ox
1:07.64
Women's 100m Freestyle
1
Rachel Andvig
Ox
59.39
2
Alexandra Wiseman
Cam
59.61
3
Eleanor Gardner
Ox
1:00.21
4
Cathy Breed
Cam
1:00.55
Men's 100m Freestyle
1
Dale Waterhouse
Cam
52.53
2
Tom Mclean
Ox
53.08
3
Ashwin Menon
Ox
53.31
4
Dimitris Kouloulidis
Cam
53.58
Women's 4x50m Medley Relay
1
Rebecca Ajulu-Bushell
Tamsin McKinnon
Holly Winfield
Eleanor Gardner
Ox
2:04.0
–
Katherine Chapman
Priya Crosby
Lydia Woodward
Cora Olpe
Cam
DQ
Men's 4x100m Medley Relay
1
Ashwin Menon
Xander Alari-Williams
Matthew Courtis
Heerden Herman
 Ox
3:53.94
2
Graeham Douglas Dominic Holloway
Calum Ferguson
Dale Waterhouse
 Cam
3:59.13
Women's 4x50m Freestyle Relay
1
Rachel Andvig
Naomi Vides
Millie Marsden
Holly Winfield
Ox
1:50.96
2
Katherine Pyne
Annarie Rossouw
Cathy Breed
Alexandra Wiseman
Cam
1:51.57
Men's 4x100m Freestyle Relay
1
George Stannard
James Ross
Dominic McLoughlin
Tom McLean
Ox
3:31.90
2
Dimitris Kousoulides
Ian Gaffney
Dominic Holloway
Erik Sullivan
Cam
3:38.79
---