5th Week Blues (times) @ BUCS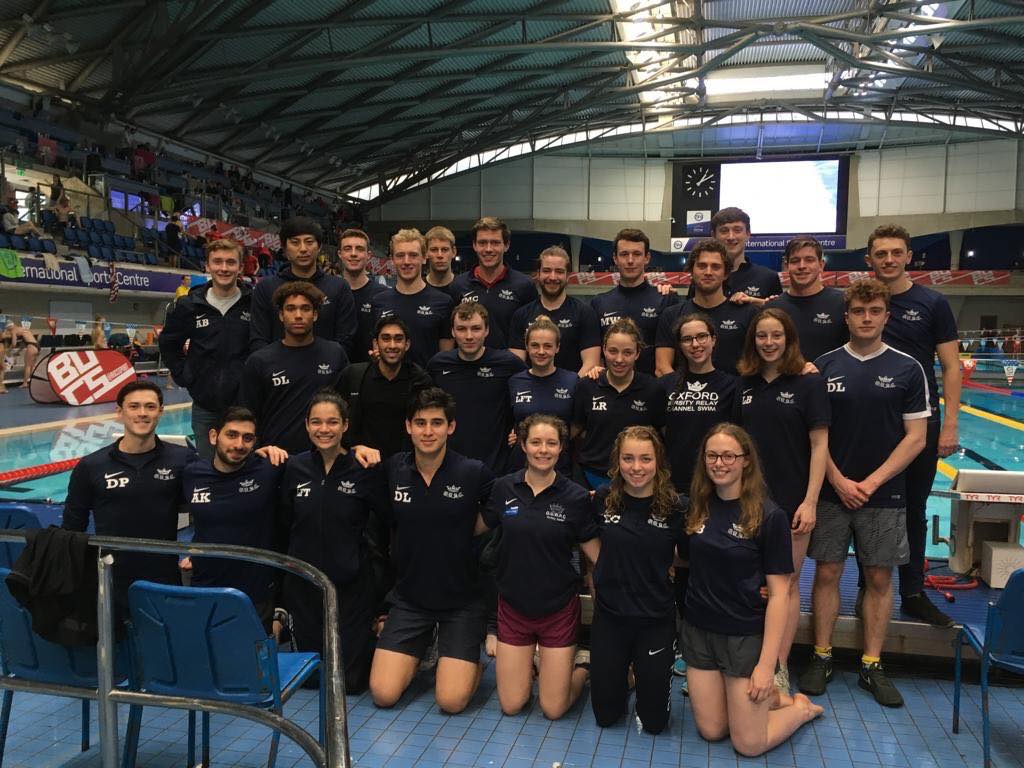 OUSC have had an incredible weekend at the BUCS SC Championships at Ponds Forge, seeing an astonishing 7 records broken and 14 Blues times set in just 3 days of racing. A strong team spirit was apparent with an enormous amount of support radiating from poolside throughout every race.
It all kicked off on Friday evening with the 4x50m freestyle relay heats and long-distance races. Fresher Ellie Corby set the first record of the weekend in the 800m freestyle with a time of 9:22.24, after which both the men's and women's relay teams secured themselves a space in their respective B finals.
Saturday began with the 200m freestyle, which saw an impressive swim from Fresher Anna Duncan to achieve her first ever Blues time in a PB of 2:11.00!
The next record to be set was in the 50m breast which was smashed by Fresher Zoe Faure Beaulieu to gain a spot in the B final later that day, where she finished 6th. Zoe swam an awesome time of 33.24 in the heats and matched it in the finals with 33.26. Matt Williams also produced a Blues time in the 50m breast touching in 29.53.
A pair of Blues time came in the 100m fly with Fresher Spencer Williams and OUSC veteran Matt Courtis swimming strongly, finishing in 1:04.44 and 56.99 respectively.
Ellie Corby added a second record to her name in the 200m back later that day, touching in a time of 2:23.90.
The 50m free brought another Blues time, this time from Louisa Zolkiewski, who propelled herself to a swim of 27.65 with some phenomenal underwater fly kick.
A fantastic Blues time came from Tobermory Mackay-Champion in the 200m breast with a time of 2:15.04 in the heats. This saw him through to the final that evening where he placed 5th and improved his time to 2:12.84 against a very strong field.
Spencer Williams took down the 400m IM record by over 4 seconds with a gutsy swim and a Blues time, finishing in 5:08.00.
The women's 4x50m free relay team of Louisa Zolkiewski, Ellie Corby, Lauren Burton and Spencer Williams placed 1st in their B final with an impressive last leg from Spencer to touch out the team from Bath by just 0.02. The men's 4x50m free relay team placed 8th in their B final.
Sunday began and ended with more records. The former came from Spencer Williams in the 200m fly with another Blues time of 2:21.26.
Blues times started rolling in with Lauren Burton, Anna Duncan and Matt Courtis all earning theirs in the 100m free with promising times of 1:00.84, 1:00.43 and 52.79 respectively.
Zoe Faure Beaulieu earned her 2nd record of the meet in the 100m breast with a Blues time of 1:12.53. These two excellent performances led her to be chosen by the captains as swimmer of the meet.
Ellie Corby swam a final Blues time in the 400m free in a time of 4:35.54.
The final session saw Tobermory Mackay-Champion finish 8th in the 100 breast final in a rapid time of 1:02.50. To round off the meet a women's team of Louisa Zolkiewski, Zoe Faure Beaulieu, Spencer Williams and Luiza Farache Trajano raced a stunning 4x50m medley relay to successfully set another record, touching in a time of 2:00.02.
The weekend saw some thrilling swims with some great feedback and guidance coming from both coaches and teammates. The performances have greatly inspired and motivated the team ahead of the next block of training – exciting times lay ahead!
Written by Ellie Corby
---