A successful BUCS for OUSC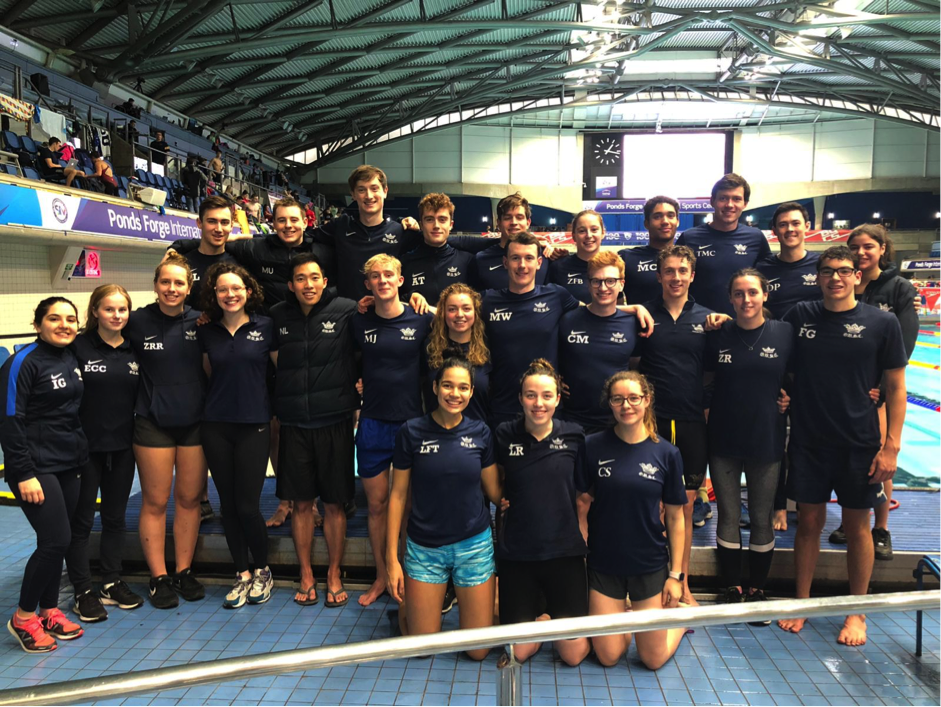 OUSC saw two club records broken this weekend at the annual BUCS Short Course Championships in Ponds Forge, Sheffield.
The 4×50 mixed medley relay team broke the club record in a 1.50.06 and then again in the final, where dream team James Towner (backstroke), Tobermory Mackay-Champion (breaststroke), Louisa Zolkiewski (butterfly) and Spencer Williams (freestyle) finished in a time of 1.49.35.
Fresher Sophie Lawrence then went on to tackle the 200m butterfly on the final day, showing no signs of tiredness and finishing in 2.20.37 – a new PB, club record and Blues time all in one!
A total of 16 Blues times were swum by the team this weekend, which is an exceptional achievement only 5 weeks into the season.
James Towner pulled off a series of impressive sprints across the weekend, securing Blues times in the heats of the 50m freestyle (23.67), 50m backstroke (26.56), and 50m butterfly (24.95). He then went on to better his 50m backstroke and butterfly times later on: he swam a 26.03 in the 50m backstroke B Final, where he finished in 3rd place, and also faced an exciting swim-off for a place in the 50m butterfly A Final, beating his heat time in 24.92. He just missed out on the A Final but finished in a solid 4th place in the B Final in his third 50m butterfly of the day.
Louisa Zolkiewski also completed a successful run of sprints, achieving a Blues time in the 50m backstroke (30.64) and 50m freestyle (26.95). Unfortunately, she put so much into this second swim that she seriously injured herself on the finish, which just goes to show the guts it takes to get these times! We hope her recovery is as fast as her racing!
Sophie Lawrence clinched a second Blues time in the 100m butterfly in a time of 1.05.23 alongside teammates Zara Ryan (1.03.92) and Spencer Williams (1.03.98).
Spencer Williams also swam a 26.89 for the 50m freestyle, nearly matching her relay split and earning her another Blues time.
The team also has a strong breaststroke cohort, with Zoe Faure Beaulieu swimming a 33.80 on the 50m and a 1.13.27 on the 100m breaststroke – that's two Blues times and an early November shoeing out of the way.
Tobermory Mackay-Champion made a comeback to competing with a 2.16.56 in the 200m breaststroke – a comfortable Blues time. The list of breaststroke Blues times was completed with Matthew Williams' 50m breaststroke where he swam a 29.84.
The final Blues times of the weekend came from fresher Max Underwood and old-timer Matthew Courtis. Max's love for distance spurred him to a 4.41.17 finish in the 400m Individual Medley, whilst Matthew added to his long collection of Blues times with a 53.29 in the 100m freestyle.
The relay teams also pulled off some impressive swims despite the girls losing Louisa to injury, with the Women's 4x50m freestyle relay (Luiza Farache Trajano, Christy Sadler, Claudia Murray and Spencer Williams) finishing in 1.49.09, securing a superb 9th place in the Final. In the 4×50 medley relay (Luiza Farache Trajano, Zoe Faure Beaulieu, Sophie Lawrence and Spencer Williams) the team swam a 2.01.90 to secure 7th place in the B Final. The men's Medley Relay (James Towner, Tobermory Mackay-Champion, Matthew Courtis and Matthew Williams) also finished in 7th place for the B Final in 1.44.28.
The team dealt extremely calmly with everything the weekend threw at them and showed great support for one another in the first official meet of the year. Congratulations to everyone who took part – the end of term is in sight and with it an opportunity to focus on training in sunnier Spain! 
Report by Zara Ryan
---