Meet the Squad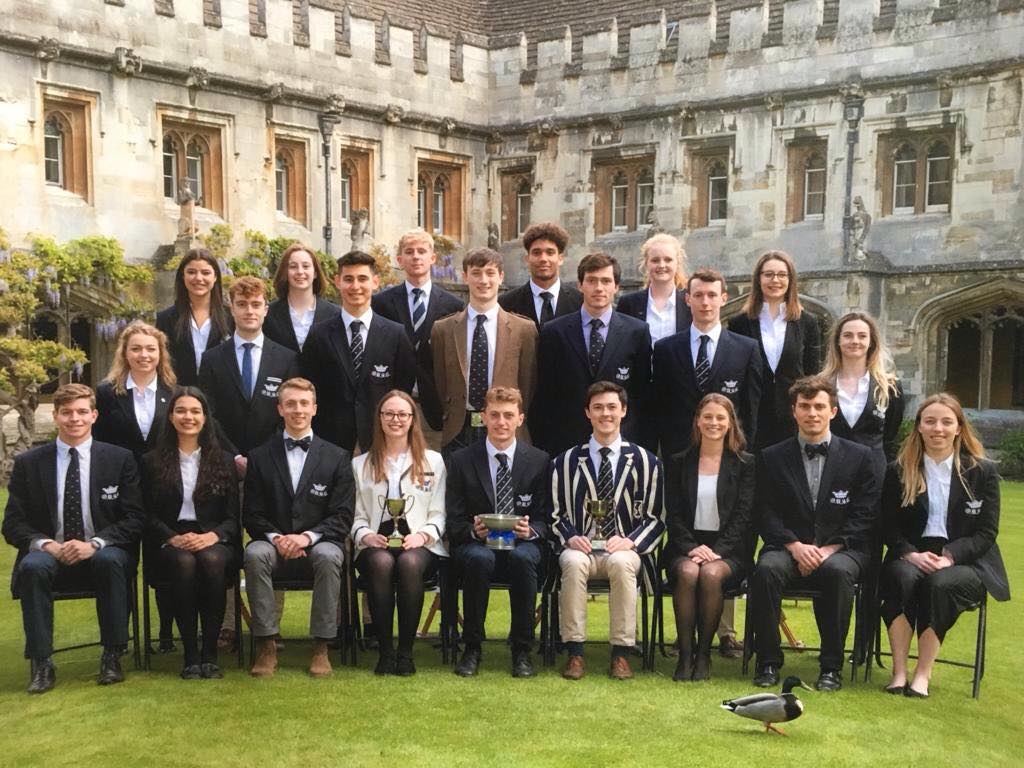 The OUSC Blues team have had some fantastic results this year with a record number of records broken and a thrilling varsity win. The team is from a variety of colleges, courses and backgrounds but in the pool they work incredibly well as a team. Here are some of their stories and reasons that they swim.
Matthew Williams – 3rd Year – Law – Jesus
I have the classic swimming background of training about 10x per week between the ages of 12-16 and eventually falling out of love with age group swimming. In 2015, I won a British gold medal for 50m breaststroke, however my head coach left shortly afterwards which meant I had to move clubs. After moving, swimming did not feel the same and lacked the team atmosphere that my previous club had had. Therefore, it was an easy decision to quit swimming to focus on my A levels.
Upon coming to Oxford, I had ambitions of swimming once per week and maybe joining the seconds team. After attending the trials, I was persuaded by the captains to give the OUSC first team a go. I reluctantly went along but I am so glad I did! University swimming with OUSC is so different to age group swimming as there is a real team emphasis and we like to think we have good banter.
As I'm entering my final year, I really wanted to give back to the team by becoming Men's Captain. I am extremely excited for the year ahead!
Ellie Corby – 2nd Year – Physics – Wadham
After entering my first school swimming race in year 4 I decided I loved competing and wanted to join my local club. Being a small club with an incredible head coach, I started to enjoy the training more and more and towards my GCSEs and A-levels I began to prefer the long hours in the pool over sitting on poolside for entire weekends. My enthusiasm for the sport is limitless and I found that Open Water competitions were the perfect mix of fun and hard work.
I was so keen to become a part of OUSC as a fresher but I never knew how exciting swimming competitions could be until I experienced The Varsity Match for the first time. This team has totally reignited my love to compete and as women's captain I can't wait to lead us to another Varsity win! (Also training is a lot more fun too :)))))
Luiza Farache Trajano – 3rd Year – Medicine – Magdalen
Growing up, swimming was a huge part of my life and I struggle to think of a weekend that wasn't spent at a gala. I was completely swimming obsessed- even moving away from home to advance my swimming career. But, as the years went by, I began to enjoy the sport less and less. Then, when GCSEs/ A levels approached, I took a step back from the pool and focused more on my academics.
When I came to Oxford, I was really reluctant to swim again. It had been 2-and-a-half years and I honestly thought I would drown if I attempted more than 50m.
However, my experience as an Oxford swimmer has really surprised me- I was able to complete that first 50m, start competing again and even PB! I really believe that the reason behind this rekindled love for the sport lies in the fact that I am surrounded by positive and motivating team mates. It may sound cheesy, but OUSC has enriched my university experience more than I can put into words.
I'd really recommend for any swimmers, regardless of how long it's been since you last went for a paddle, to try out swimming at university- you might surprise yourself!
Dom McLoughlin – 7th Year – Astrophysics
I swam competitively from age 6 until teenage years, but then I stopped competing for my last few years of school. I did other sports, had fun, and didn't think I'd race much again. I thought I couldn't go faster any more, and didn't think I would ever have the time again to get back to the level I was at aged 13-14. When I joined Oxford and trialled for the swim team, I was surprised by how high the level was, and almost quit again because I didn't think I would make the team. But something, I don't know what, made me want to keep trying. The set-up is ideal for university students and I was surprised by how well the team and coaches seemed to understand the stress and struggles I was having due to normal university. OUSC always listened, and adapted to my situation as it changed, and I wasn't used to this from age group swimming. I didn't seem to be getting faster though, so was quite down. Then in January of my first year, we got into the racing cycle, and I started getting PBs in events I thought I would never swim fast in again. I've now represented Oxford in all 6 years so far, and am excited to do it again this year. Whatever your struggle is, put some trust in the Oxford swimming team program. We know it is tough for people who want to re-engage with a long-lost sport that they quit whilst focusing on getting into Oxford, we know it's sometimes daunting to imagine the stress of heavy training, but we also know how to support our swimming family and help you enjoy the sport more than you ever have before.
Declan Pang – 4th Year – Medicine – Queen's
After swimming competitively for nearly 10 years with my home team, Tynemouth ASC, I took a short break to concentrate on my A levels. I really wanted to continue at uni as I knew what a great group of friends you normally meet in the pool. I had an absolute shocker of a trial (PB+8 for a 50m…) but was warmly welcomed by the Captain at the time into the 2nd team. I loved training with the team and settled in really quickly. It was the perfect thing to do alongside the fresher life and offered a great opportunity to socialise with a group from completely different Colleges and years. I received an email from the Men's Blues (1st team) Captain asking me to compete at the Friendly Competition we organise against other nearby unis so he could watch me race and, well, the rest is history I guess! I got the call up to swim for the Blues team and it has been the best three years of my life! We went on to win Varsity in my first year, I was Treasurer in my second year, then led the Men's Blues team as Captain in my third year.
The dynamic in the pool is the best I have ever experienced in a sports team and I've made friends which will last a lifetime here. University swimming is so much more exciting than age group level and the atmosphere at Varsity – our annual competition against Cambridge – wow. Walking out as a team to a huge crowd all there for the team is something I'll never forget. It's been a real privilege swimming for Oxford.
Swimming is the most amazing way to keep fit so, whether you're wanting to get a bit more active, looking for an outlet to de-stress, wanting get to know some new people, or aiming to break OUSC records, come along to the pool and give it a try! We have something here for everyone and I promise you won't regret it – hopefully see you there!
Zara Ryan – 4th year – Law with French Law – Mansfield
Since discovering that putting me in the bath stopped me crying, my mum has been encouraging me to spend time near and in water. Swimming turned out to be a great way to channel my energy, feelings and competitive edge and ever since I started I've not been able to stop: even when I joined uni expecting a less chlorine-filled life I found myself drawn back to swimming. I discovered an amazing team and friends for life and have never looked back.
Jamie Towner – 5th Year – Medicine – Worcester
I started swimming for Team Bath when I was a lil sprout. Swam at the national level for a number of years before seemingly packing it all in at 16. Packed for uni and thought I may as well pack my trunks just in case I fancy a paddle, but I didn't think much of joining the team in a big way. Got stuck in as a fresher and never really looked back. I loved the social aspect of being part of a uni sports team, I loved having another tight group of friends and being able to mix with other colleges and sports people. I wasn't the best swimmer to start off (I had a couple years out) and spent most sessions cramping, but have since done a load of PBs, made BUCS finals and captained the swim team. Regardless of how much time you've had off, or whether you think you just want to swim casually, I can't recommend joining and getting stuck into the swim team enough – it'll be the best decision you make at Oxford!
P.S. F Cambridge
Alex Thompson – 2nd Year – Economics and Management – Christ Church
I've been swimming competitively for as long as I can remember with my highest achievement being competing at regional level. Last year I made Varsity selection for the 200m Freestyle and training with OUSC and competing in the event honestly made my first year, its not easy to balance studying with training but its definitely manageable. I'm more than happy to answer any questions you might have about swimming, your course, or even your college! Feel free to send me an email at
Spencer Williams – 2nd Year – Biology – Christ Church
Having swum competitively since I was little, I thought uni would be a good time to move on and leave swimming in the past. However, a sudden change of heart during freshers week meant I showed up to tryouts, and I'm super glad I did! Swimming at uni is totally different to swimming at a club/school, and its easy to balance work, social and training to suit you. I definitely can't imagine what my first year would've been like without it, and Varsity was one of the most unforgettable experiences of my life. Also I'm sure there will be some lit socials.
Adam Bagley – Graduate – Mathematics and Philosophy – Hertford
Before coming to Oxford I swam for quite a small club, training only three or four hours a week, so OUSC was a bit of a step up for me. I've absolutely loved the challenge it gave me though and it really helped take my swimming to the next level! The biggest difference I noticed with age group swimming was we really treat swimming as a team sport here – everyone is incredibly welcoming and supports each other, and it's so fun to be part of such a great group working towards the same goal. OUSC was easily the best part of my time at Oxford, as well as the absolute highlight of my swimming career, and through it I've met a lot of my all-time favourite people. I would absolutely recommend anyone who enjoys swimming to join!
Tori Lackey – Post-Graduate – MTh in Applied Theology
After 7 years out of the competitive swimming waters, I got myself back in the pool through Masters USA about 6 months before joining OUSC. The training program quickly increased my fitness and I was swimming best times by season's end. Joining OUSC was a highlight of my 2 years at Oxford. The team is full of truly exceptional people who making Uni life infinitely better, and shoeing the Tabs at Varsity is always a satisfying way to begin Trinity term. OUSC has been my friend group, my support system, my competitive outlet, my therapeutic relief from academia, and one of my proudest achievements during my post-graduate studies.
Zoe Faure Beaulieu – 2ndYear – Chemistry – Pembroke
I started swimming when I was about ten years old and have never really looked back. I took one year off swimming just before coming to university and started back up again with OUSC – I am now women's vice captain for this coming year. This first year has been better that I ever wished for – the team is incredible and have become my second family. I couldn't wish for a better group of people to share my Oxford experience with.
Lauren Burton – Graduate (cry) – Geography – St Anne's
I came to Oxford having swum for one small home club for 11 years. I thought that I'd feel out of place swimming for another team but quickly realised that OUSC was the most welcoming and friendly team I could have wished for! I competed in all three Varsity matches over the duration of my degree, obtaining three Full Blues, three victories and a few relay records. I was Women's Captain of the team last year, an honour which I will treasure for a very long time! OUSC really is an inspiring team to be a part of and I'd encourage anyone who's swum before to come along to trials, whether you're aiming to be part of the Blues squad or swimming more casually in the Seconds squad.
Daniel Luo – Graduate – Physics – Balliol
I made my best friends at OUSC.
Christy Sadler – 3rd Year – Chemistry – St Peter's
When I started Oxford, I had taken some time away from swimming and decided to play water polo instead. At the start of my second year, I took a big leap and trialled for the blues team having taken 5 years off from competitive swimming. The club was so welcoming and I instantly knew that university level swimming was going to be very different to the 25+ hour a week training schedule I was used to as an age group swimmer. I have made some incredible friendships over the past year and I've really grown both in and out of the pool as a result. I managed to smash my PBs which I didn't think I would be anywhere near and I'm so excited to see what comes in the next few years. Swimming at Oxford is such a unique opportunity, especially when it comes down to Varsity (our annual competition against Cambridge). The atmosphere is incredible and the team spirit is like nothing I have every experienced before! Being part of OUSC has been a huge part of university life. I would really urge everyone to trial, no matter how much time you have had out of the pool!
Louisa Zolkiewski – 2nd Year – PhD Genetics – Trinity
I started swimming in primary school and joined my first swim club at 11. After taking a break from swimming at 15, I moved to a new club and started getting back into competing and I haven't looked back since!
Having swum for other uni teams during my undergrad and masters I had some reservations about joining OUSC, but I can honestly say they have been the most welcoming team by far. I always get out of training feeling like I've accomplished something and the whole team is so supportive of each other both in and out of the pool. My highlight of the past year was swimming at my first Varsity match, the atmosphere is completely unlike any other and I'm proud to be part of the OUSC family.
Matt Courtis – 7th Year – DPhil Gas Turbine Aerodynamics – New
Raised on the islands of the Caribbean swimming in the beautiful waters was a must. Involved in all things watery (swimming, sailing, surfing) competition started from an early age. Ive represented Barbados at junior worlds in both swimming and sailing, but the best competitions have been 5 Varsities for Oxford (and one for Cambridge… Oops). The team is a family and balances competition and social which is the best thing to do when studying at Oxford.
Lara Reed – 4th Year – Medicine – Somerville
Before coming to uni I'd been swimming competitively for almost 10 years, however as much as I loved swimming I wasn't sure if it was something I wanted to continue doing through uni. I didn't know whether it was time for a change and was worried about balancing training with the step-up in work load. However, while the hectic oxford life was a bit of a shock to begin with, I soon settled into a routine and found that it was very possible to find a good balance between the two. I am so glad I did decide to join OUSC as it has provided me with so many amazing opportunities from competing with a varsity-winning team, taking part in the unforgettable cross-channel relay and most importantly making some of the most amazing, supportive and inspirational friends.
Matty Johnson – 2nd year – Biochemistry – Exeter
I used to be a swimmer up until GCSEs in Liverpool but then decided to make the transition to triathlon. After a year with OUSC for my swim training the whole team atmosphere has got me back fully into swimming and buzzing for another year with the team.
Miles Clark – 2nd Year – Engineering – Hertford
So I can look like goku
---