Swimming at Oxford FAQs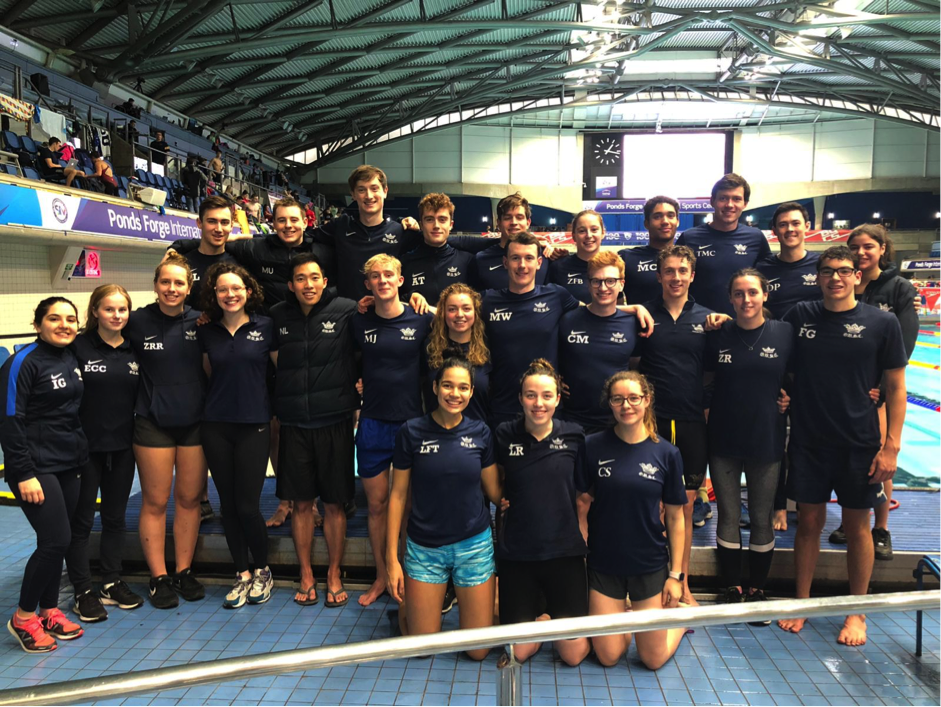 How often do you train?
The Blues team trains 8 sessions a week plus gym, while the Seconds team trains up to 4 sessions a week plus land training.
Are all sessions compulsory?
Of the 8 sessions for the Blues team, 6 are compulsory – but being Oxford we can be flexible depending on situation/workload.
For members of the Seconds Team, there is more flexibility but swimmers who are looking to compete should be attending 2-3 out of the 4 sessions available.
Will I still be able to have a social life if I swim?
Yes and swimming is a big part of the social life – we have socials almost every Wednesday (which is the sports night out in Ox) and we try to go to brunch on Saturday after training.
How hard is it to balance sport and academics?
Honestly it's not that bad, you just need to stay organised. Some weeks are harder than others but just let the captains know what's going on and you can come up with a plan that works
What does a typical Oxford day look like for a Blues member?
Wake up 6/6:15am, cycle to training
7am-8:30am: training
9am-11am: lectures
Most of the rest of the day will be working in college/libraries and tutorials with lunch of course
5/6pm: dinner
7pm-9pm: training
[If it's a wednesday we have a team social after training 5-7pm and on a saturday we try go to brunch after morning training]
Can I still go to my lectures if I have to go to morning training?
Of course, people who study the same subjects tend to go in groups. We would definitely advise that you get a bike but until then you can leave training 15min early to make sure you're on time.
Where do you train?
We train at Rosenblatt Swimming Pool which is part of Iffley Sports Centre. It's a 5 minute cycle from central colleges!
Do you have trials or can anyone join?
We have trials on saturday on Freshers week, all students thinking of joining the team (Blues or Seconds) need to trial.
What do trials involve?
Every swimmer will have to trial 50m freestyle and 50m of another stroke. You will also fill out a short form to let us know your best strokes/events and your best times.
I haven't swum in a couple of years but used to be competitive is that ok? Is it worth trialling?
Of course! That's absolutely fine, most people on the team have taken at least one year off from competitive swimming before joining the squad and it is definitely worth trialling.
How often do you compete?
We compete in all three BUCS competitions: BUCS SC (in november), BUCS LC (in February) and BUCS Teams (in May?) and most importantly Varsity against Cambridge in March.
Our Open Water team also compete Biennially in the channel relay and in the Henley Classic swim.
How many people do you have in the club?
Our Blues Team has 25-30 members depending on the year and our Seconds team has about 40 members.
How many people do you usually take every year?
It really depends on what the team is looking for – i.e do we have any gaps in the team, how many people graduated the year before…- but normally the blues team will take 2-3 swimmers for both womens and mens team
How competitive is the seconds team?
The seconds team is growing more and more every year and becoming more competitive – the seconds team can compete in both BUCS SC and BUCS LC and have their own varsity against cambridge.
Can I decide to join midway through the academic year?
This is quite rare as we try and select all swimmers at trials. Our season isn't very long and it can be tricky adding members halfway through the season. However, it can happen – our current Men's captain Matty Johnson joined halfway through his first year and made the varsity team that year.
If I don't make the blues team can I move up from the seconds team once I've improved?
Yes definitely, there will always be communication between the blues and seconds captain and if we think someone is good enough to be brought up then it will be done. Seconds swimmers can also trial to make the blues team during freshers week.
Do you have a coach or is it student run?
Our blues team has a qualified coach who runs 4 out of 8 of our sessions (he is also a coach for City of Oxford Swimming Club). The other four sessions are run by a student coach. All the seconds' sessions are run by a student coach (previous blues mens captain). Both student coaches were members of the Blues team previously.
Do OUSC run any open water sessions?
In the summer, groups of swimmers often attend Queensford Lake to train for the Henley Classic and Channel Relay. The sessions are not coached but are led by the Open Water Captain.
Can disabled athletes join OUSC?
Yes, absolutely! Para-swimmers can join the Blues or Seconds team, whichever squad is the best fit for the individual. We have also introduced a para technique session to give disabled swimmers the space to practise their skills when the lanes are less busy!
Can disabled athletes compete at Varsity?
Yes! This year, we introduced two para events at Varsity. These events took place during the Blues Varsity match. Disabled swimmers can also take part in both the Seconds and Blues Varsity match.
Do you offer swimming lessons?
Unfortunately, we don't offer swimming lessons. However, Iffley Sports Centre runs Adult Swimming Lessons every week.
22. Can I get in touch with the captains now to let them know I'm interested?
Of course!! We definitely encourage contacting the captains before trials with your details so they know who to look for. You can contact Matty and Zoe by clicking on their names or heading to the Contact page on the website to get in touch with Christy.
23. (Are we better than the Tabs?)
Silly question, obviously
And if you're still asking check out our previous results against the tabs here or here!
---