Varsity 2019 Match Report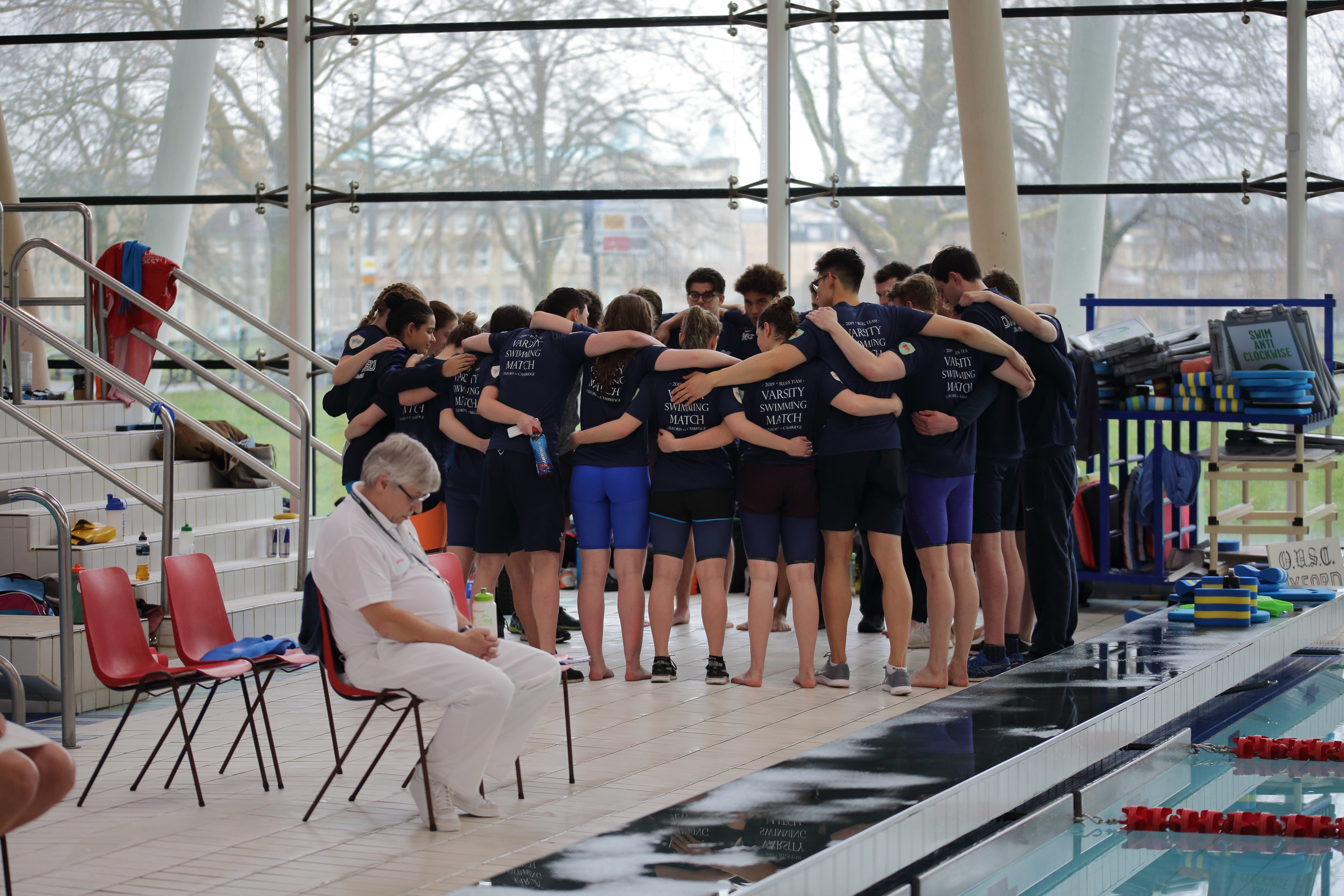 Oxford swam away with the trophy at Varsity 2019 after one of the closest-fought matches in recent years. Both Oxford and Cambridge were eagerly anticipating the match, both fighting for a win after the first draw in history last year.
The team travelled down to Cambridge after a short swim in the morning. Morale was high and, after a team talk from the Captains, we were ready.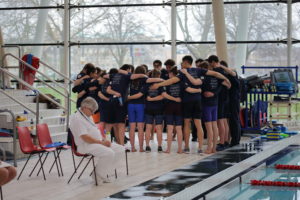 In the first event, the women's 200 m IM, fresher Zoé Faure Beaulieu competed alongside Lara Reed and they placed second and third respectively after a tactical race. Both achieved personal best times, the first in three years for Lara! Matt Courtis and Tobermory Mackay-Champion followed in the men's 200 m IM, placing second and third respectively in a hotly contested race.
OUSC's backstroke domination continued into Varsity 2019, with Louisa Zolkiewski winning the women's 100 m backstroke in a new personal best time, backed up by fresher Anna Duncan finishing in third. Jamie Towner and Dom Walker achieved a 1-2 finish in the men's 100 m backstroke, convincingly beating the Cambridge swimmers by 1.5 seconds.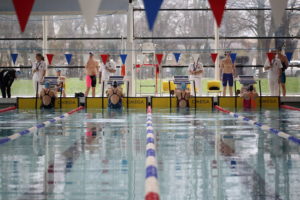 Next came the 200 m freestyle, where fresher Ellie Corby and Women's Captain Lauren Burton placed second and fourth respectively. In the men's race, despite valiant efforts against strong Cambridge opponents, President Adam Bagley and fresher Alex Thompson placed third and fourth respectively.
The women's 100 m fly saw fresher Spencer Williams dominate the field, finishing ahead of second place by over a second, in a club record time of 1:02.34. Luiza Farache Trajano finished in fourth. An ever-suspenseful race, the men's 100 m fly saw all four swimmers touching within 0.4 seconds of each other at the half way point. Matt Courtis finished in second place, and Men's Captain Declan Pang in fourth.
A short break in the programme was welcomed with open arms by all to allow for some lactate removal and pep talks. We had everything to play for, lagging by two points at this half way point.
The women's 400 m freestyle saw Ellie Corby and Lara Reed back in action, finishing in first and third respectively. In an incredibly well-fought race, Dan Manners and fresher Matty Johnson secured second and third place respectively.
Zoé Faure Beaulieu dominated the women's 100 m breaststroke, making winning by 3.5 seconds look easy! Christy Sadler finished in fourth. Oxford also dominated the men's breaststroke, with Tobermory Mackay-Champion finishing in first and Matt Williams in third.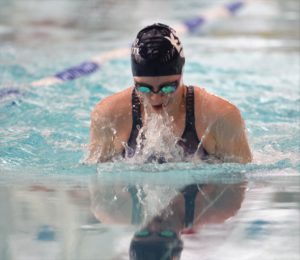 The last individual race of the day, the 100 m freestyle was eagerly anticipated. In the women's race, Lauren Burton finished in second in a new personal best time, and Anna Duncan finished in fourth. The men's race was the closest of the day, with just 0.01 seconds differentiating between first and second place. Jamie Towner finished second in a new club record time of 51.11 seconds, followed by Daniel Luo in fourth.
Still behind by two points after the 100 m freestyle, we knew we had to win three of the four relays in order to win overall. That was all the motivation we needed – it was show time!
The women's 4×50 m medley relay was first, with a fresher-heavy team of Anna Duncan, Zoé Faure Beaulieu, Spencer Williams and Louisa Zolkiewski. The girls dominated their swim, comfortably winning by a 5-second margin and setting a new club record in 1:59.25.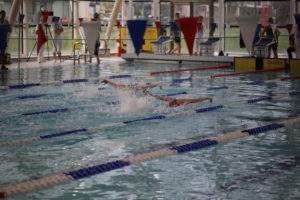 The domination continued into the men's 4×100 m medley relay, with the team of Dom Walker, Tobermory Mackay-Champion, Matt Courtis and Jamie Towner cruising to victory in a time of 3:49.68, beating Cambridge by 12 seconds.
Knowing that they had to win their race to ensure a Varsity win, the women's 4×50 m freestyle relay team of Louisa Zolkiewski, Ellie Corby, Lauren Burton and Spencer Williams were fired up and ready to go. Incredible swims by all four girls in the most tense race of the match saw a convincing win of 0.5 seconds in a new club record time of 1:47.41. The celebrations began – we had won!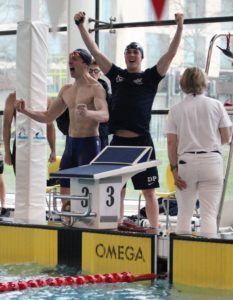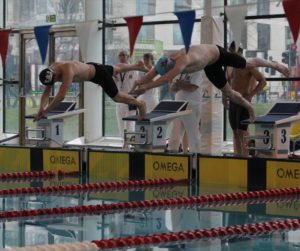 After composing themselves, the men's 4×100 m freestyle team stepped up to the blocks to round off the match. The team of Dom McLoughlin, Miles Clark, Adam Bagley and Declan Pang finished second in 3:33.89.
As a team, we achieved 17 Blues times, 11 personal bests and four club records. The women's team won by 49 points to 41, and the men's team just missed out with 44 points to Cambridge's 46. The match was one of the closest in history, demonstrating the quality of competition from both teams.
The heart and team spirit shown in the relays is testament to the cohesiveness, hard work and focus of the team this year. Every member of the Varsity team earned their place and contributed to Oxford's 93-87 victory. In such a close-fought match, it was this team spirit that separated us from our closest rival, it was this that won us Varsity 2019.
Written by Lauren Burton
---