Varsity Match Report 2020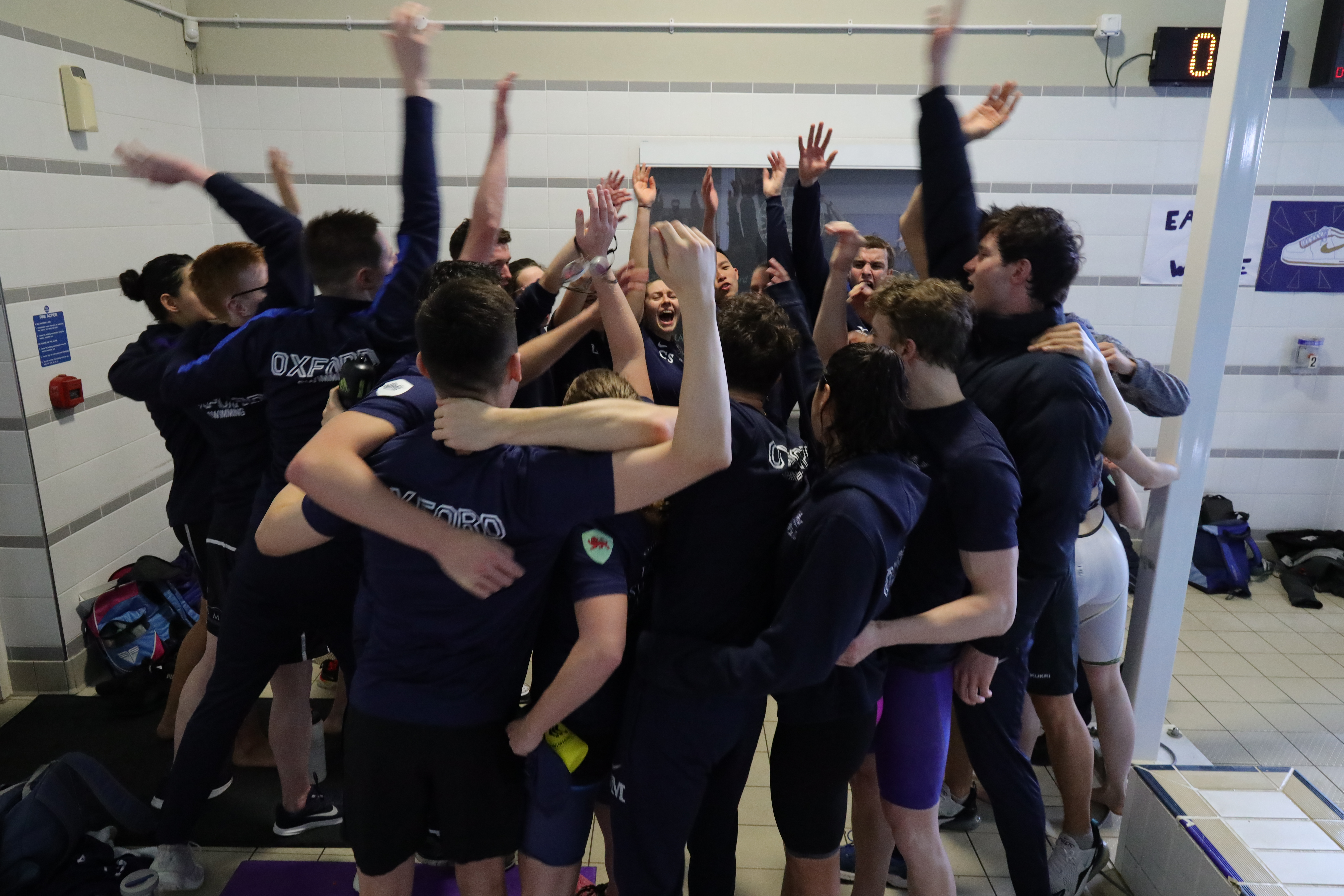 Much like last year, this year's Varsity match was an extremely close contest with both teams boasting tremendous depth and talent. Off the back of last year's dramatic victory, Oxford were keen to hold on to the overall trophy.
In the first event, the women's 200 m IM, Women's Captain Ellie Corby and Vice-Captain Zoé Faure Beaulieu teamed up to place 3rd and 4th after a tactical race and some untouchable swims from the Cambridge girls.
OUSC legend (and recent BUCS champion) Tobermory Mackay-Champion and promising fresher Max Underwood kicked things off for the men in the 200m IM. Toby put in a sterling performance, despite being ill, to finish second with a time of 2:06.84 whilst Max produced an enormous 6 second PB to narrowly finish 4th in a time of 2:07.98.
The 100m back saw the two Louiszas swim head to head resulting in Luiza Farache Trajano and Louisa Zolkiewski finishing in 2nd and 3rd in 1:07.86 and 1:07.90, with Louisa having recently returned from injury and Luiza breaking a 7 year old personal best!
Up next for the men in the 100m Backstroke were the infamous backstroke duo of Jamie Towner and Cameron Manley. Despite losing his precious nose clip beforehand, Jamie pulled out an astonishing personal best time of 55.89 to finish comfortably in first. Cameron touched in a very useful third place in 58.35, securing a blues time and chipping away at Cambridge's initial overall lead.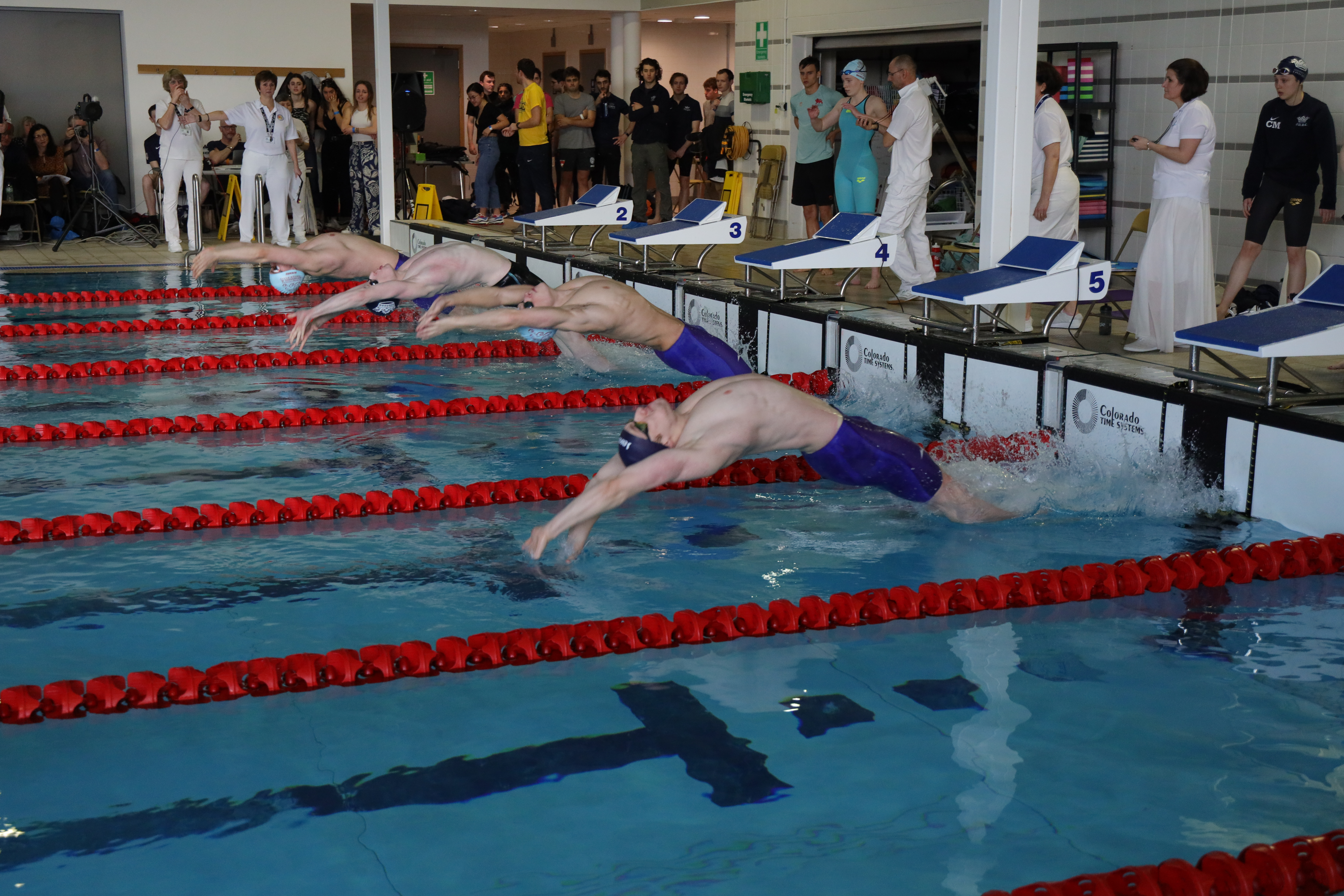 Next came the women's 200m freestyle, after a year of not being allowed to officially race a 200m free, freshers Claudia Murray and Sophie Lawrence took to the pool ready to race. They brought the fire with them finishing in 3rd and 1st, taking Cambridge by surprise and winning some vital points for the home team. Sophie achieved a 10 second personal best of 2:07.24 and Claudia took home a time of 2:10.25.
The men's 200m Freestyle saw the ever-improving fresher Owen Lawton and Oxford sporting veteran Tommy Lees battle it out against Joe Anderson for 2nd place after an untouchable swim from Jacques Bonsell comfortably took 1st place. The Oxford men battled hard, however they narrowly finished 3rd and 4th with Tommy touching in 2:01.38 and Owen in a massive PB of 2:02.48.
The women's 100 m fly saw Spencer Williams and Zara Ryan dominate the field, finishing ahead of both Cambridge swimmers and getting the home crowd cheering. They finished in 1st and 2nd in 1:02.45 and 1:03.46 with Spencer only missing the Oxford record set at last year's Varsity by 0.11.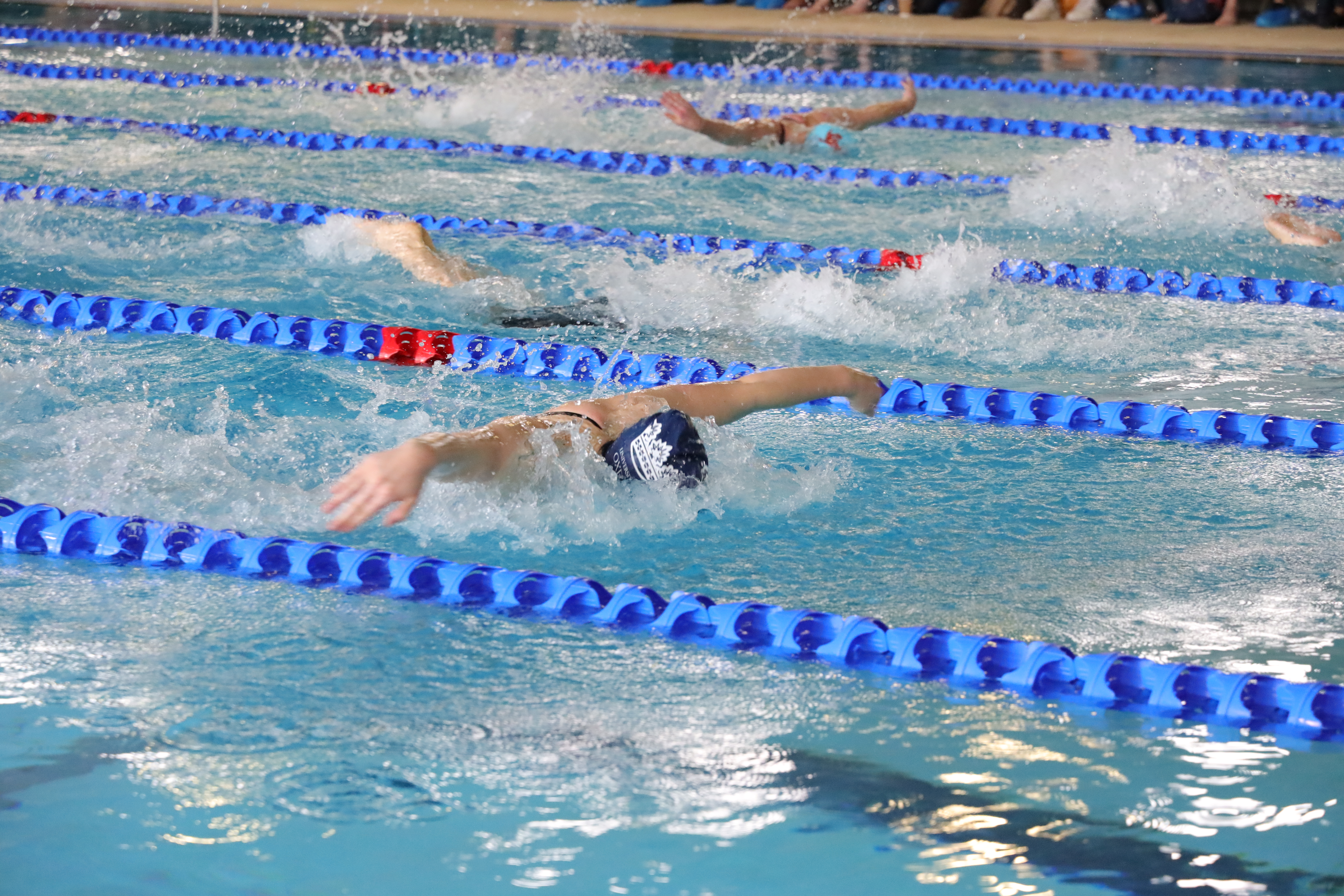 In the Men's 100m Butterfly, Oxford were represented by president Matt Courtis and the exciting second-year, Miles Clark. Miles had one of the best seasons of training on the team and it really showed at the 50m mark as he touched first in a rapid 26.2 with Matt following closely behind. However, the Cambridge swimmer, Hugo, executed his race tactics slightly better than the Oxford pair and finished marginally ahead as Matt and Miles finished in 2nd (56.46) and 3rd (57.21) respectively.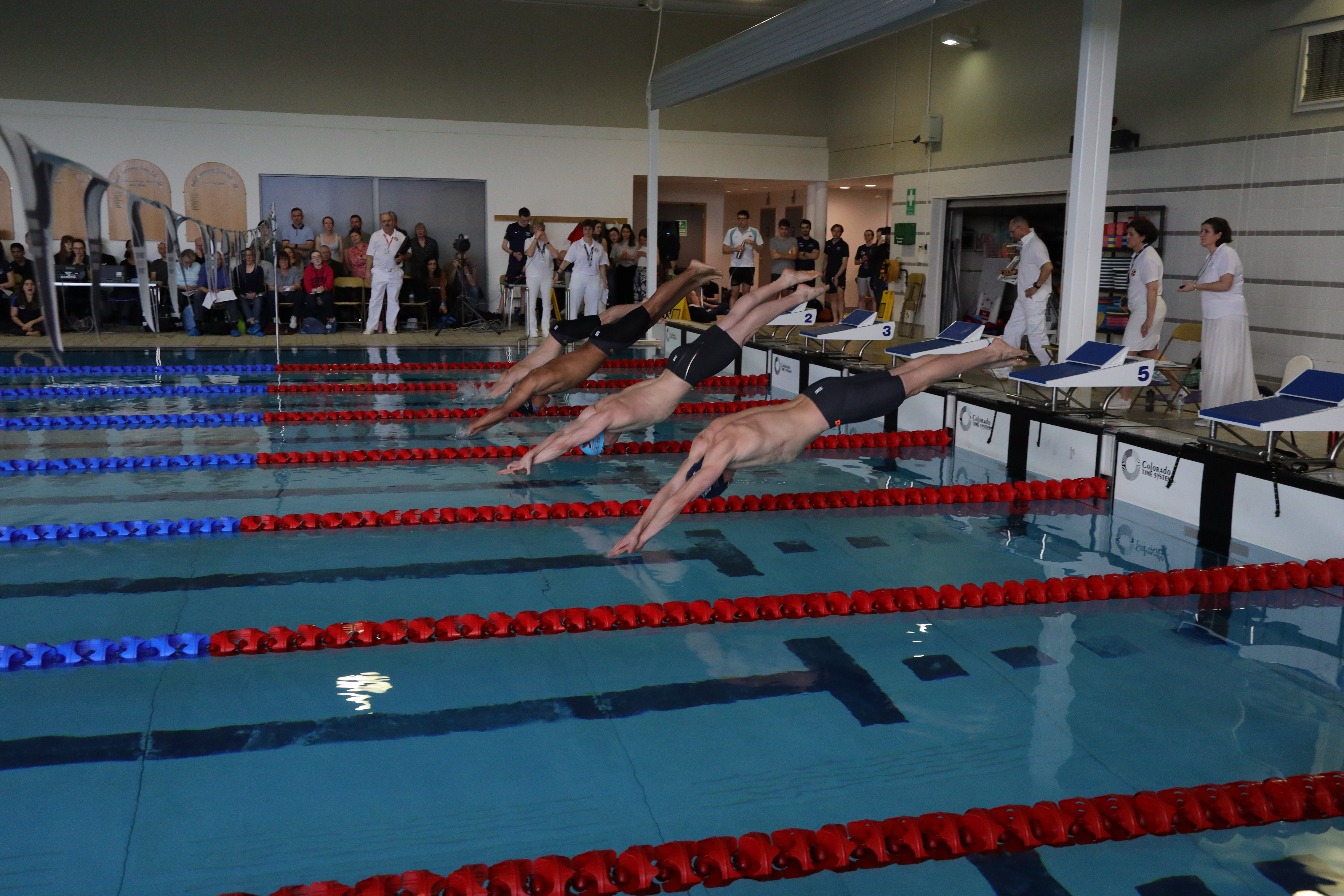 Before the break, fresher Emily Manock took to the water to show off her prowess in the S9 Women's 50m Free, coming second in the first ever multiclassification event to Carmen Lim. She achieved a huge 2 second personal best time of 50.67.
After a much-needed interval to remove any lingering lactate, Oxford returned to the pool. The women's 400m freestyle saw fresher Sophie Lawrence return from her 1st in the 200 free to prove herself in the longest race of the meet. She led from the beginning and put in a very impressive display of endurance as well as breaking the Oxford record with a time of 4:29.68 with Lara Reed finishing with an important 3rd position with a time of 4:41.04. They really demonstrated just how hard they had trained this year and how much heart goes into a big swim like a 400.
The men's return to the pool in what was arguably the race (and turning point(?)) of the day for Oxford. Fresher Max Underwood returned to action alongside fellow fresher Felix Gallagher to compete in the 400m Freestyle, a truly gruelling event that requires perfect race execution in order to be successful. The Cambridge duo turned marginally ahead at the 100m mark, however Max and Felix were well aware there was a long way left to go as they gradually closed the gap by the 200m mark. After 200m, Max got bored of riding Hugo's wave and stormed ahead of the field. Felix also made a late surge through the field which saw him finish 3rd in a 9 second PB of 4:10.16 and Max finished first in a rapid 4:08.74. Two of the youngest swimmers of the meet offered everyone a true masterclass in how to pace a 400m race.
The women's 100m breast was an exciting race between the Oxford girls, Zoe Faure Beaulieu and Zara Ryan as they touched in a dead heat at the 50 meter mark in 34.61 with Zara bringing a strong back end to touch in a time of 1:13.97 and Zoe in a time of 1:15.28. Coming 2nd and 3rd they maintained the all-important winning margin Oxford had after the 400s.
The next event was the men's 100m Breaststroke which saw the go-to pairing since 2018 of Tobermory Mackay-Champion and Captain Matthew Williams take to the pool. Oxford dominated the race from the beginning with Matt touching marginally ahead of Toby at 50, however Toby finished first in a record time of 1:00.99 (a true feat considering he was ill and untapered!) whilst Matt finished in 2nd in 1:04.00, demonstrating how not to pace a 100m breaststroke. Although this was a massive boost for Oxford, the shine was taken away from the 1,2 by the absence of Cambridge captain Lewis Waters due to injury. Matt and Lewis swam at the City of Newport together before university and it was a shame, they were unable to battle it out one last time on the 100m breaststroke in their final varsity match together.
Fresher Claudia Murray and seasoned sprinter Luiza Farache Trajano dived into the pool in the 100m Free having already come 3rd and 2nd in their earlier events. This time it was Claudia's turn to take the win however as she touched in a rapid time of 1:00.18 with Luiza snatching an important point from Charlotte Rowlands, a veteran of Cambridge swimming by 0.01 seconds to come 3rdwith a time of 1:00.43.
The final men's individual event of the match was the 100m freestyle, one of the most hotly anticipated events after last year's dramatically close finish. Veterans Jamie Towner and Matt Courtis returned to the pool for Oxford to face the formidable competition of Theo Cannon and Jacques Bonsell. Theo took the lead early on; however, Jamie was able to build into the race and closed the gap incredibly throughout the second 50m, perfectly utilising Theo's wave. However, Jamie ran out of water just before he could get ahead as Theo touched in a record-breaking 50.25, closely followed by Jamie in an Oxford record of 50.52 as he smashed his record from last year. Matt Courtis finished in 4th in 52.29, which was a new PB and comfortably under the blues time.
The multiclassification girls then took to the water for their second event of the day with Emily Manock taking on Carmen Lim in the 100 backstroke this time on Emily's preferred event. Carmen touched in a time of 1:37.72 to beat Emily in a very impressive display in the longer event.
After counting the points during the second break it became evident that with the scores standing at 73-67 (Oxford-Cambridge) Oxford had to win 2 out of the 4 relays in order to win the overall trophy. Knowing that the Cambridge team had decided to stack their girls medley team the 4 strong team of Louisa Zolkiewski who swam the free leg of the winning medley relay in 2019, Zara Ryan who had showed off her sprint breaststroke earlier in the meet, Spencer Williams and fresher Claudia Murray who were both returning from big wins in their respective strokes. As the tense pool atmosphere quietened for the start, the girls were off for the 4×50 medley relay. Louisa gave the team a lead after a beautiful demonstration of underwater butterfly kick touching in a huge 50 pb. Zara kept the race close having to match Clare Collins who had won the individual breaststroke. Spencer then took the lead on the fly leg and Claudia taking the girls home safely in a time of 1:58.42 setting an Oxford record in the process, 0.76 ahead of the Cambridge girls. The victory was getting closer!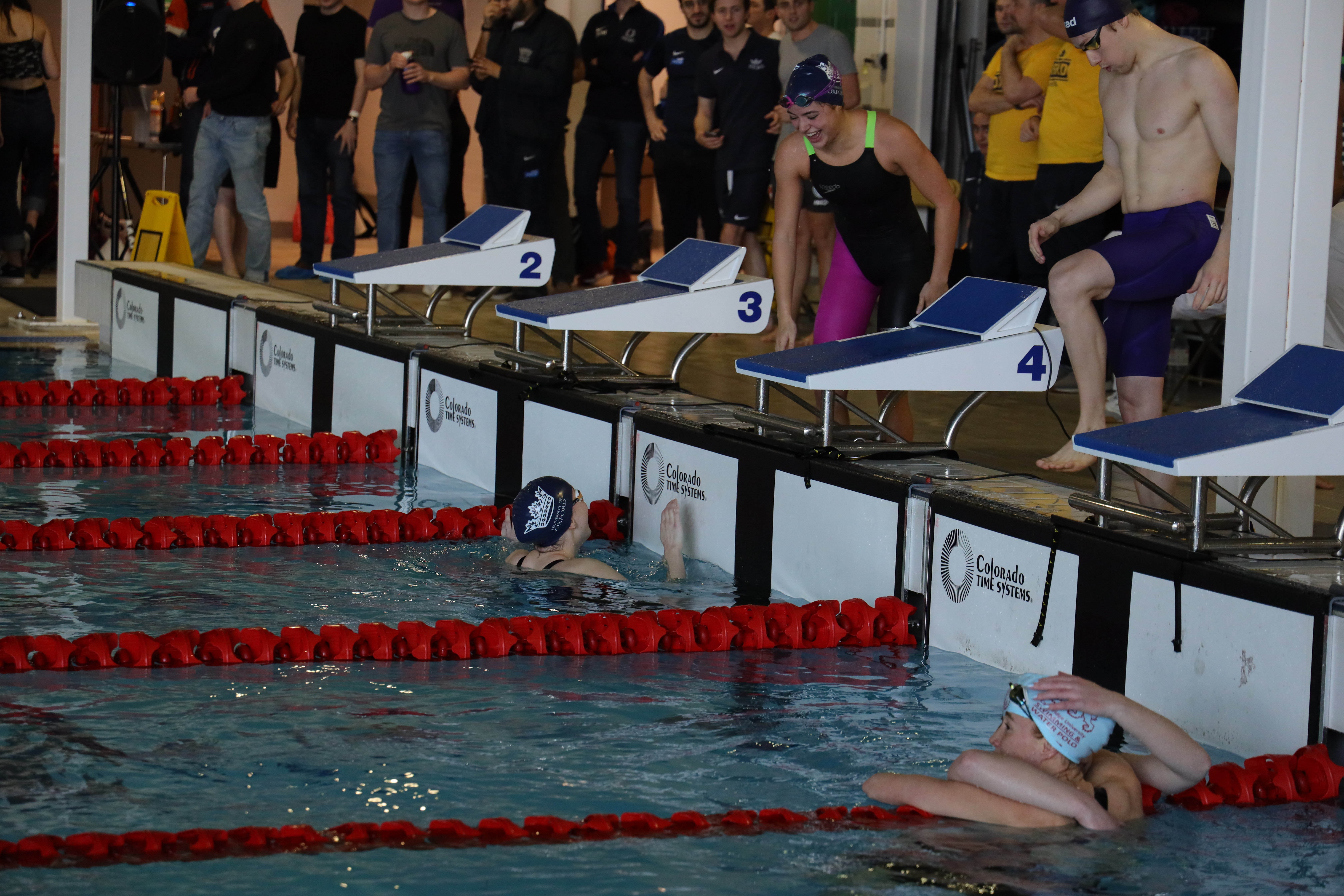 The men returned to the water for the 4x100m Medley relay with one race to win to seal the Varsity victory for the team… no pressure then. A tired, and justifiably so, Jamie Towner split 58 on the backstroke leg to hand over to Toby who unsurprisingly gave Oxford an enormous 3 second lead. Toby handed over to Miles who swam a very speedy butterfly leg to increase the Oxford lead to 5 seconds. Matt Courtis was able to comfortably cruise home the final leg in a 52 split to provide Oxford with the overall win with a time of 3:49.42, providing there were no disqualifications on the remaining relays. Unsurprisingly, Rosenblatt pool erupted at this point!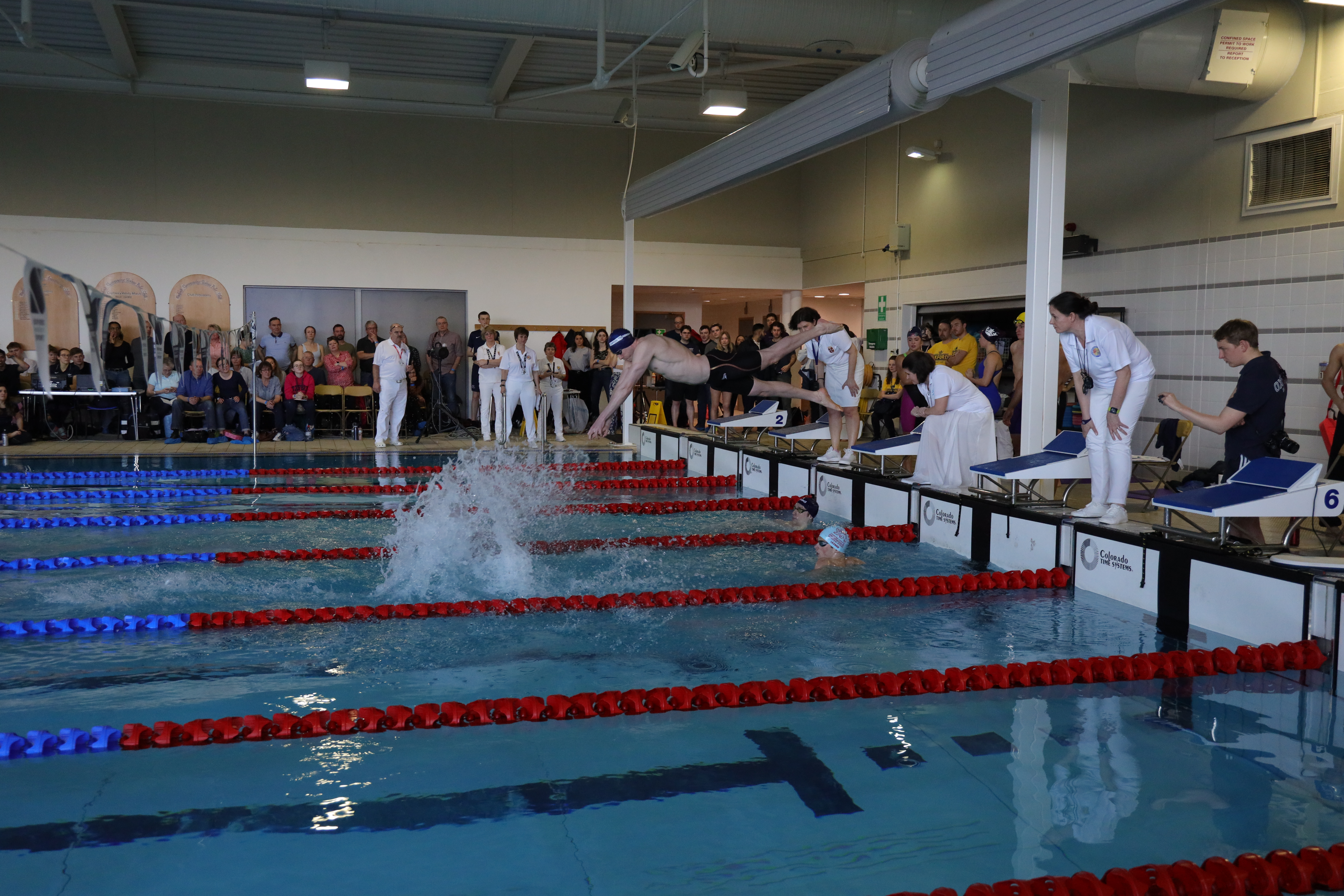 The girls 4×50 free relay team then entered the pool with the positivity and confidence of the previous relays with Louisa Zolkiewski, Christy Sadler, Luiza Farache Trajano and Spencer Williams swimming safe takeovers but still managing to score a very impressive victory and consolidating win in a time of 1:49.04, almost 2 seconds in front of the Cambridge team.
The final event of the match was the men's 4×100 Freestyle relay, with the possibility of winning all 4 relays not being ignored by Oxford. Another OUSC veteran Dom McLoughlin led the men off, achieving his blues time. The remaining trio of Tommy Lees, Cameron Manley and Matt Williams put up an admirable fight, however Cambridge gave their all in an attempt to avoid losing all 4 relays. Cambridge finished in a record time; however this was overlooked once captain Matt Williams touched the wall in a time of 3:36.26 and Rosenblatt erupted once more.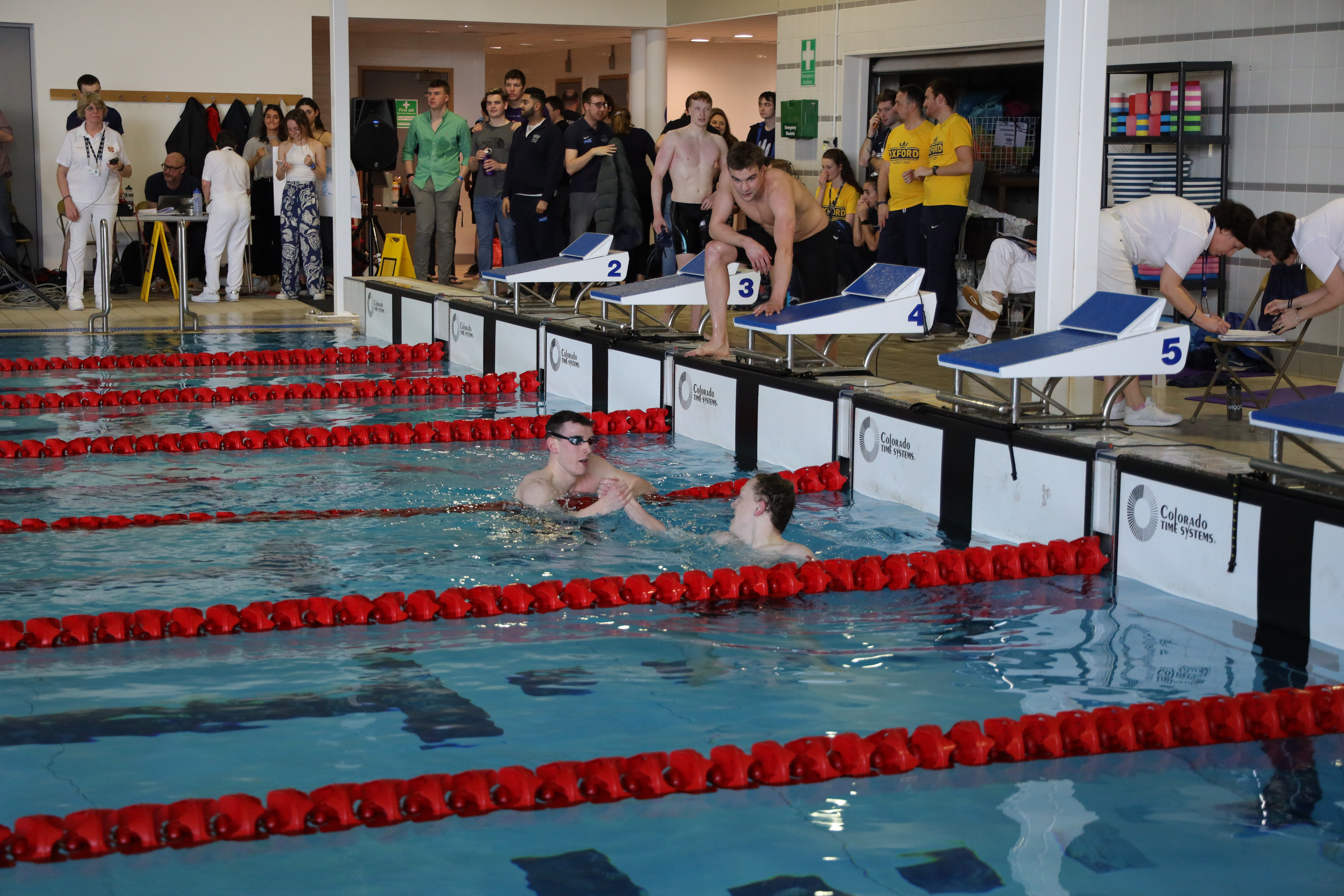 The overall match score was 97-83 to Oxford which thrilled the 120 strong home crowd and brought us some iconic moments including nail-biting finishes, 4 Oxford records, 19 blues times and 13 personal bests.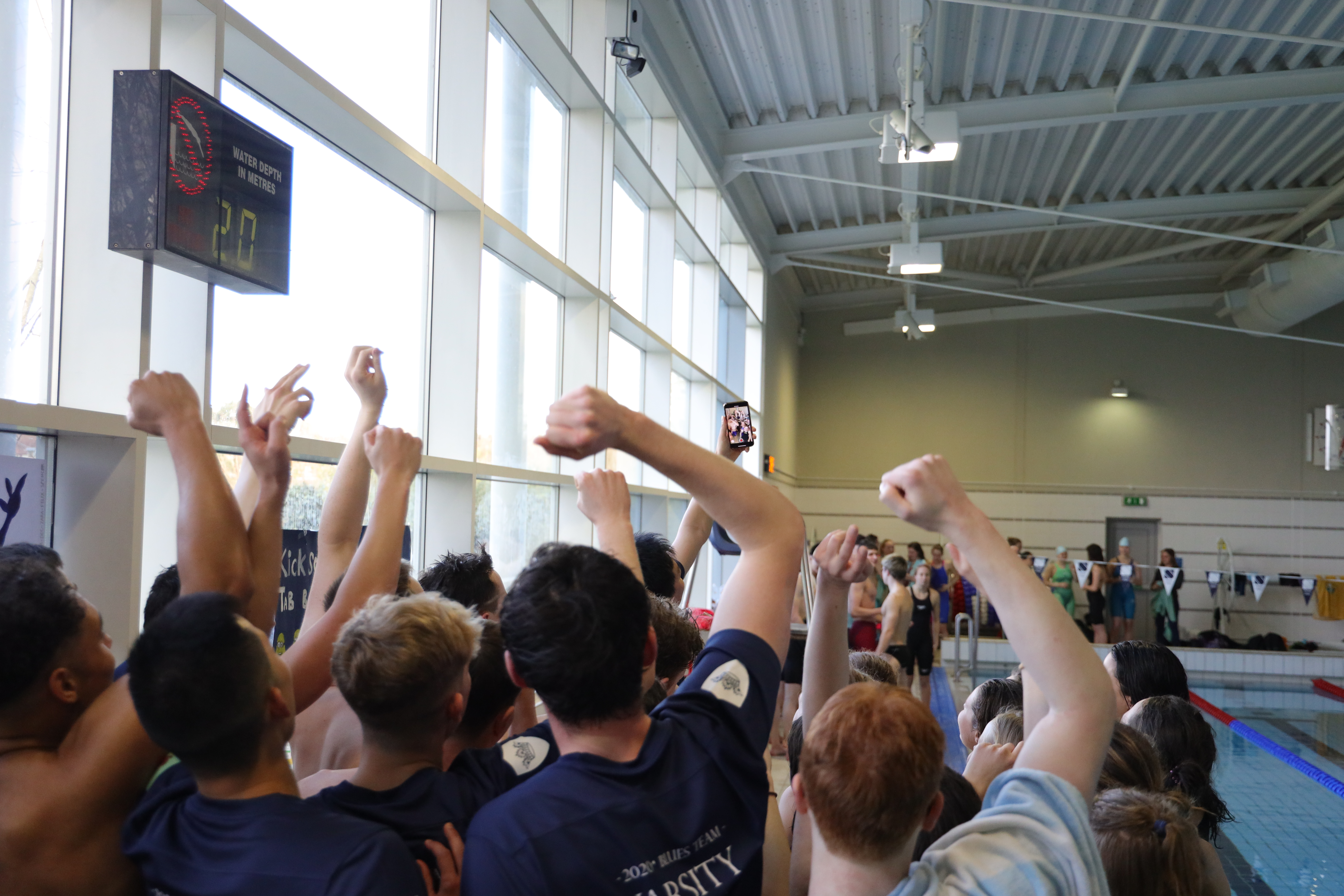 The Women's varsity match resulted in an Oxford victory of 52-38 a 14 point victory that proved just how hard the Oxford ladies have worked this year, showing domination across the distances and strokes even when matched with very high standard opposition. They took home the newly engraved Women's Varsity cup which will hopefully see more Oxford engravings as the years go on.
The men's varsity match ended in a draw at 45 apiece, which was a very fitting result and reflected the high calibre of swimming on both sides. Having improved upon last year's result, Oxford's men will be setting their sights on winning the men's trophy outright next year.
---