The Annual Varsity Swimming Match 2020 – Oxford University – Saturday 29th February (6th week HT20)
The Annual Varsity Swimming Match is the highlight of the year and is what all training is focused towards, with team selection for both teams happening a few weeks before the event. The Varsity Match takes place during Hilary term as part of the Varsity Games, with the location alternating between Oxford and Cambridge. The Oxford Dolphins vs. Cambridge Marlins Match takes place first and the Blues Match follows.
Click here to view previous Varsity Match reports.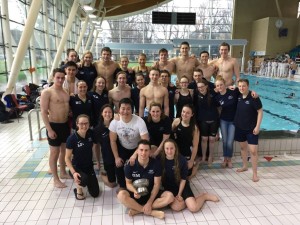 Two swimmers from Oxford and two from Cambridge compete in 7 individual events and each university puts forward a team to compete in each relay event. Each event alternates between the women's races and the men's races. In the Dolphins vs. Marlins match, the distances of each event is halved. The programme consists of:
200m individual medley

100m backstroke

200m freestyle

100m butterfly

400m freestyle

100m breaststroke

100m freestyle

4x50m (Women) and 4x100m (Men) medley relay

4x50m (Women) and 4x100m (Men) freestyle relay
The Dolphins vs. Marlins Match finished with an 'n' x 25m relay, which does not contribute to the final result, but allows everyone the opportunity to compete!
4 points are awarded for 1st place finish, through to 1 point for a 4th place finish. Double points are awarded for the relays (7points for a 1st place finish and 3 points for 2nd). If two swimmers touch at the same time, the points are shared between the two individuals and 0 points are awarded for a disqualification. Trophies are awarded the each Men's and Women's team with the highest number of points, and the Men's and Women's points from each university are summated to determine the overall winner. The Varsity Match rules state that individuals can swim in a maximum of two individuals and one relay or one individual and two relays.